This guy adopted a kitty from the shelter and gave him a forever home and then the kitty returns the favor by hugging him every day!
"This is my friend, Butters Raul."
"We adopted him and his sister from Philadelphia Animal Welfare Society (PAWS), they were 3 months old. He started with making tiny kitty biscuits and nursing from my neck or cheek. We think he got taken away from his mom a bit too early. So now I'm his mom," Luke said to Love Meow.
Butters has been attached to his human dad since the same day they met.
"He still kneads and hugs and throws himself at me. Wouldn't trade it for anything."
Just mere hours following his arrival at forever home, the cat simply wouldn't stop hugging and cuddling up with his human dad.
There's nothing in the world makes Butters happier than cuddling!
"Butters has been attached to me since I adopted him and his sister, Muffins."
As you can clearly see, the two are quite are inseparable!
What a great way to wake up in the morning!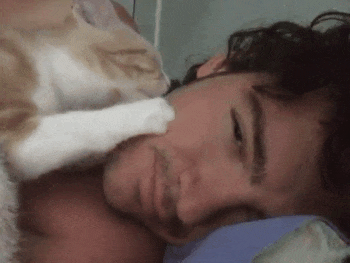 And here's Butters literally throwing himself at his new human dad to get a hug.
What a happy couple!