NEW ZEALAND – Most cats tend to bring home dead mice and the occasional bird. This feisty feline, however, has a peculiar taste: men's underwear and socks. Sarah Nathan, posted on her Facebook page that her cat, whose name is Brigit, routinely snatches socks and underwear from unsuspecting clotheslines in the neighborhood.
One of the photos in this post shows Brigit's collection of undergarments from just over a two-month span. In an attempt to return the goods to their rightful owners, Nathan posted this photo showing the cat with the stolen goodies, as well as the note below on Imgur.
The photo of the cat and the notice quickly made its way to Reddit where neighbors saw the photos and were able to reclaim their goods. According to Nathan, the owners were convinced that is was a human that was taking their clothing.
"At first they thought a person was stealing their stuff. Then they saw Brigit's story on Reddit and got in contact. They've even watched her do it– using her whole body weight to pull things down before taking off with them," Nathan noted on her Facebook page.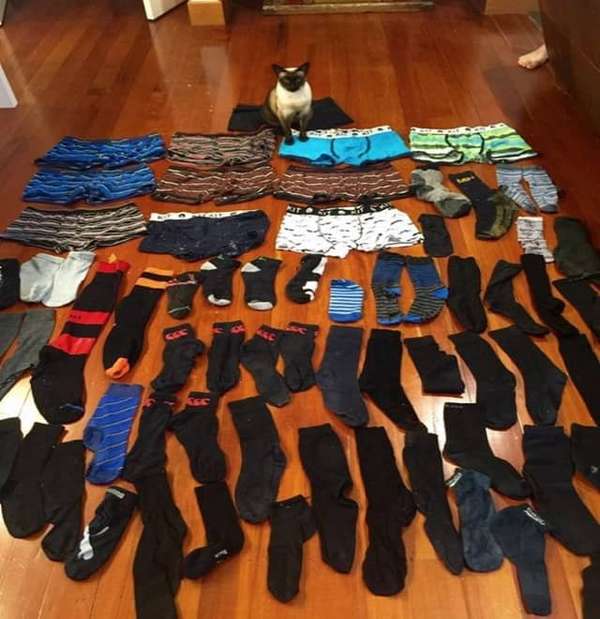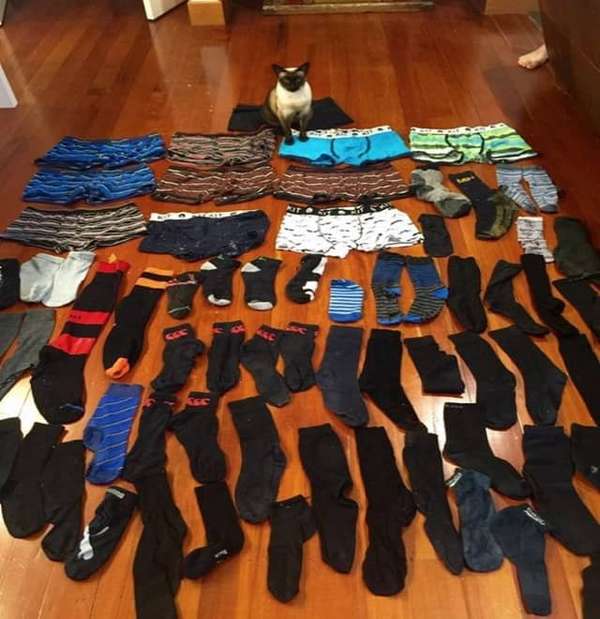 Apparently, notoriety hasn't stopped this brazen cat from continuing to dabble in her favorite pastime. A more recent photo from just a few days ago shows Brigit with her latest booty as well as a pet tracker which was sent to her by a fan.
Is this cat a real life Perry-the-Platypus or perhaps she just gets a kick out of stealing men's underwear?
Perhaps her brand new tracker will give us some answers!