PENDLETON, INDIANA — Andrew Conley, 23, not photographed, loved the cat and English bulldogs he grew up with way back when.
That was before his life took a rough turn. On Oct. 15, 2010, he was sentenced to life in prison without the possibility of parole for murdering of his 10-year-old brother nearly a year earlier, making it unlikely he'd ever again snuggle up to a feline.
"I definitely missed all my cats," he said.
In March 2015, the Pendleton Correctional Facility teamed up with the Animal Protection League to put up a cat sanctuary, and Conley became one of the caretakers for the 20 animals that are housed there. The area is similar to one established at the Pendleton Industrial Facility in 2006.
"This is definitely the best thing I've ever done in the prison," Conley said. "I treat these guys (cats) better than I treat myself. … It just makes me feel like I'm doing something important again."
On Thursday, the Pendleton Correctional Facility celebrated a move of its cat sanctuary to larger quarters, complete with catwalks and platforms throughout the new space.
Conley, who sometimes will take a cat with him on visits with his family in the facility, said caring for the cats helps him to relax in a place that for many is very stressful.
"It just feels like back at home when you have your pets," he said. "I definitely don't want to get into trouble now, because I don't want to jeopardize this."
Conley said the cats behave much differently now that they have an expanded space.
"Some come out more, play more, are sweet. They can get a little more exercise," he explained.
PCF's sanctuary helps the Animal Protection League, the Anderson-based facility that serves as the city's animal shelter. APL has very limited space to house the many cats who are brought to the shelter daily.
"They're stepping up while the (pet) owners are stepping back," said APL Executive Director Maleah Stringer. "It seemed like a good idea. The men are idle. It helps calm them down. It's a win-win."
PCF spokeswoman Michelle O. Rains said she considers the cat sanctuary her own personal legacy.
"What Maleah does on the street, we can do in here," she said.
Over the course of the past year, the cat sanctuary has been able to find permanent homes for about 10 felines, mostly with PCF staff, Rains said.
"This is truly a sanctuary, not only for the cats, but for the people who live here," she said.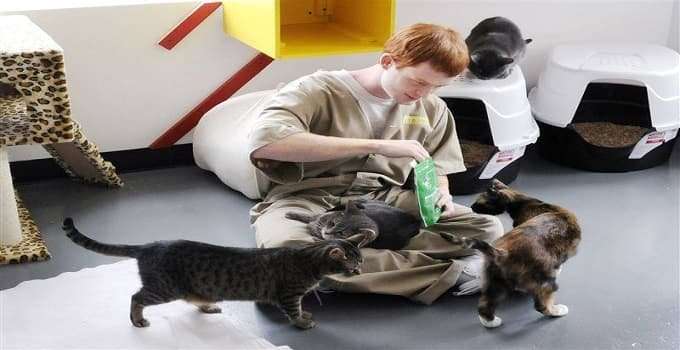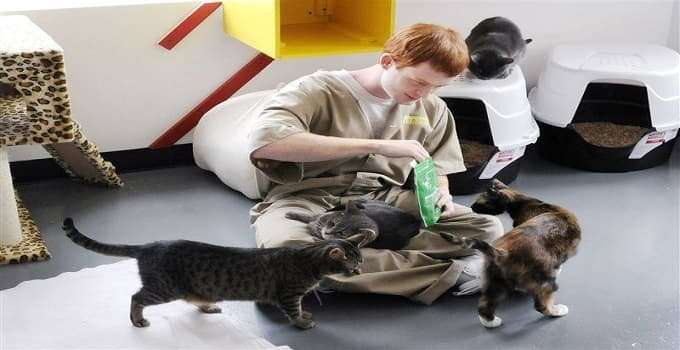 Pendleton American Legion Post 608 has been a huge supporter of the cat sanctuary over the past year by paying the costs for spaying and neutering the animals, Rains said.
The post also helped raise funds for the expanded cat sanctuary through the sale of huge, three-pound bags of onions, purchased through ARAMARK, the facility's contracted food service provider, to offenders for $6 each. The onions, considered a rare commodity in prison, are used by convicts for snacks and meals made in their living quarters.
The $2,000 raised was used toward the purchase of supplies which were used to build the platforms and catwalks.
American Legion Post 608 Commander Deon Baxter said the cat sanctuary is instrumental in the rehabilitation of many offenders.
"When people come and pet these cats, it brings a great calm. … You actually see a change in a person when they can hold a cat and pet it," he said.
The calming effects …
Karen Allen, at the time a researcher with the Division of Clinical Pharmacology, Department of Medicine, State University of New York, performed an oft-quoted study which concluded cat owners have reduced blood pressure spikes in response to stress. According to her study performed in the 1990s, blood pressure rises due to stress were about half as high among cat owners as they were among people who didn't own pets.
Miracles.
Source