SINGAPORE – Cats make great pets, especially within small urban apartments, which is why many of us love them so. Designers have caught on, too, creating sleek furniture to accommodate our furry friends, like Katris, a modular cat tree system that can be arranged like Tetris blocks or integrated with existing furniture.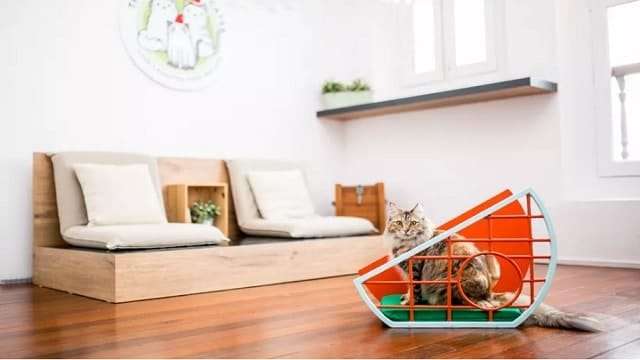 This project, however, takes it further. According to the website, "9 Lives" is an exhibition in which "nine designers ([aka] lives) express their take on furniture design for cats for urban, compact living spaces."
Taking place at Singapore Design Week next month, the show will be spotlighting how good design can improve the lives of cats—and their owners.
"As more Singaporeans adopt street cats and integrate them into their households, there is a growing demand for quality cat furniture," Tan Chin Chin, the mastermind behind 9 Lives, explained to Design Milk.
The show will include eight pussy pieces which take the traditional feline-friendly design to new heights. The "Cat Tree," who is designed by Rodney Loh, is shaped like a bird cage on a pedestal. A hole in the cage allows for a cat to enter it and observe the goings-on below. Platforms placed at various levels help the cat reach its perch.
Lee Yun Qin has created a "pop-up" cat house which is made out of cardboard that can be folded up and put away when not in use. Other designs include the brilliantly titled "Watermeowlon," which is a bed shaped like a wedge of the fruit by Toh Eelaine, and Grids, a play structure by Andrew Loh made from wire grids and decorated with rope for scratching.
A portion of the proceeds raised will be donated to Cat Welfare Society. Have a look.
[mashshare shares="false"]
Via: Design Milk