HAWKE'S BAY, NEW ZEALAND – When Gingaburger came scratching at the door of a Hawke's Bay woman, she was worried about her paint job – but now she's thanking the cat for saving her life.Otane woman Leslie Peni was fast asleep on June 1 when Gingaburger, a large orange cat, woke her and directed her attention to flames beginning in a cupboard at her home.Gingaburger, named for his ginger coat and puffy belly, began scratching on Peni's front door on Wednesday night.
Peni had recently renovated her home and let the cat in to try and stop it leaving marks on the front door."I thought, 'I've just painted that!'" she stated."I think he wanted to get me out of the bedroom because usually he would just bang on the window and come in and jump on the bed."Gingaburger lived with Peni's cousin who lives across the road, but usually visited her a couple of nights a week.Once she opened the door he bypassed her bedroom and headed straight down the hallway.He sat in her living room and stared at the top of a cupboard right where the hot water cylinder was."He was like a stubborn child and refused to move," Peni stated."I thought, 'he can't sit there all night, I want to go back to bed'."Fearing he would scratch her new furniture Peni managed to coax the cat back outside.As she settled back into bed she heard some rustling from the top corner of her bedroom which backed onto the hot water cupboard.
Initially she thought that it might be a rat but as she stood on a chair to check the sound.
"I just saw the red embers, they were just starting to fall through the ceiling."
Peni panicked and immediately called 111, then gathered important paperwork and dashed outside.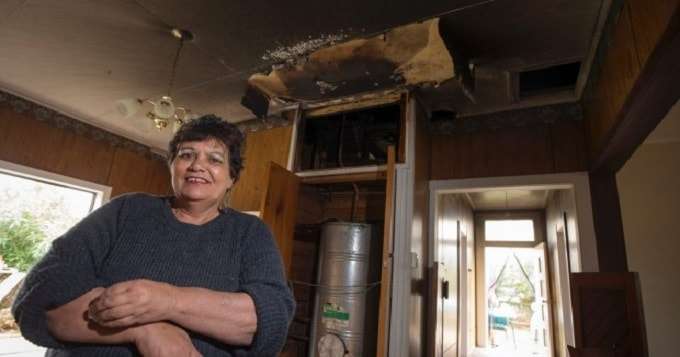 The blaze burnt the ceiling and walls all around the cylinder and left the whole house smelling of smoke.
Peni's home was equipped with smoke alarms, but because the flames were coming from the ceiling they did not begin sounding until the smoke lowered.
Fire fighters from the Otane and Waipawa volunteer brigades soon arrived and extinguished the flames without causing water damage to the rest of the property, she said.
Peni was very glad she was safe and feared without Gingaburger's warning it might have been too late for her and the house.
"If I had woken up any later I might not be here," Peni stated.
"If he was a man I would marry him, red hair and all."
She described her four legged savior as "a lovely cat" who is known to be a bit of "a rogue" at times.
He was one of three neighborhood cats Peni did not own, but sometimes visited her house regularly for pet and food.
Peni had family living close-by and was luckily able to stay with a neighbour until her insurance company repaired the damage.
An initial investigation by fire fighters concluded the blaze itself was caused by a broken wire which set fire to insulation in the ceiling.
"I've lived her for 40 years with no problems," she stated.
"I've just repainted the house, put in new carpet and new furniture."
Angels truly are among us and Gingaburger is certainly one of them!