What do the four-legged footballers of the Hallmark Channel's Kitten Bowl do when it's offseason? They go for the gold in their own Summer Games, which included a de-cat-hlon and freestyle wrestling.
And, bonus, the 90 or so furry Olympians were all up for adoption by the rescue group North Shore Animal League America, organizers stated on Tuesday at the taping of the TV special to air Aug. 5, in time for the human games in Rio de Janeiro.
The cuteness quotient was completely off the leash as the tiny competitors found their footing on bite-size playing fields, frolicking on scratchable rings at the gymnastics "venue" and jumping little hurdles decked out with delectable feathers intended to keep competitors on the move over at track and field.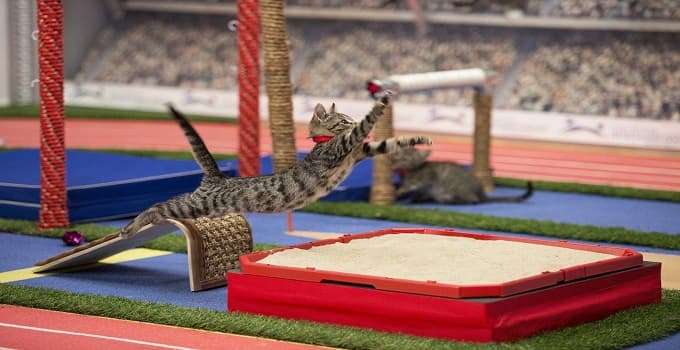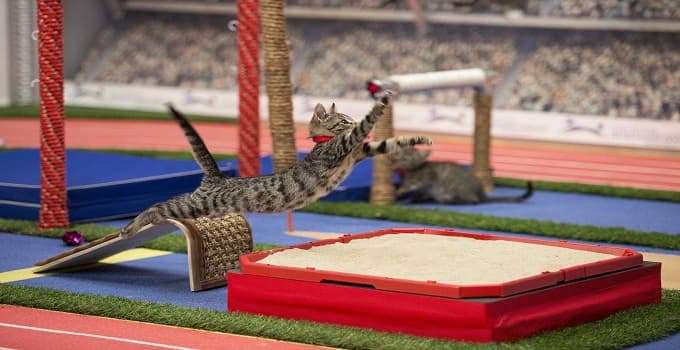 Escapees were carefully corralled by spotters, who ringed the sets as huge cameras shot the action.
Beth Stern, North Shore's ambassador and wife of shock jock Howard Stern, was also on hand. She's a self-proclaimed crazy cat lady, filling her Instagram with the couple's many foster cats and six permanent pet cats. She keeps an eye out for special needs cats, sheltering two that are blind, with one that has only three legs due to arrive soon.
"Those are the underdogs," Stern said. "Those are the ones that sadly wind up in shelters for way too long."
Stern is a magician in finding forever homes for her fosters, totaling more than 200 in the last couple of years.
"We always have a house full of fosters," she stated from Tuesday's sidelines. "But we are dog people, too. We both love all animals."
Hallmark decided to stage a kitten Olympics special thanks to the success of its three Super Bowl-timed Kitten Bowls. Mary Carillo, an NBC sports reporter who will be in Rio, is co-host of the kitty games — despite her allergy to cats. She was also joined by David Frei, who retired this year as the longtime host of the Westminster Kennel Club show telecast.
And yes, he was seen fraternizing with a kitten or two. How scandalous!
"I do love cats, but we have two dogs," Frei said.
The kitten games, including some full-grown cat "judges" also up for adoption, come during "kitten season," the time of year that many homeless female felines give birth at rapid rates.
"It's when the temperatures are warmer. That enhances the mother cat's heat cycles," Stern explained. "That results in hundreds upon hundreds of cats and kittens in so many shelters right now and they become overcrowded. People need to learn to spay and neuter. If they see strays in their yard trap, neuter and return. Let's try to solve this problem."
In addition to promoting the adoptions through the Kitten Games, North Shore will hold an adoption marathon starting April 30 and running for 36 hours, straight through to May 1. More than 700 dogs, cats, puppies and kittens will be available.
Carillo, loaded up on allergy meds, is literally a Kitten Bowl veteran.
"Unlike a lot of other professional athletes, they kind of take their sweet time. All of a sudden in the middle of a big event there's a cat nap," she smiled. "They don't know the rules. They don't care. They kind of just freestyle it at an awful lot of these events."
Carillo, too, owns dogs, including Petey Boy, a rescue. Despite her allergy, she once owned an outdoor cat back in Florida and loves them just as much.
"And they're actually terrific athletes. Their balance, their movement, the way they stalk," she said.
For Rio this will be her 13th straight turn as an Olympics reporter, analyst and commentator. She has already made a couple of trips to shoot feature stories. But on this particular day, it was all about the cats.
"I tell you what, they're not afraid to dip into the catnip? I've noticed that myself," Carillo joked. "You've gotta keep an eye on them. They're animals, and they're bloodthirsty competitors."