When you sit and think about undercover rescue operations, you might not first think of farm animals.
However, for Carla Reilly Moore, who is the co-founder of Happy Tails Farm Sanctuary in Ontario, Canada, the two go hand in hand.
"Farmers often do not like sanctuaries, as we do expose the dark side of the industry," she stated.
She recently expressed some interest in a sick, orphaned, 2-day-0ld lamb she'd discovered online. The farmer absolutely refused to turn him into a sanctuary, so Carla decided to be a little sneaky in order to get him to a safer place.
And so, she decided to go undercover, in a manner of speaking, and adopt the lamb. She was careful not to mention the fact that she ran a sanctuary and whisked him away to a brand new life.
The little lamb, however, who has since been named Charlie, had a long way to go before he would be ready to run and play in the fields. He was separated from his mother and that caused some emotional problems, which is actually quite common in all animals who are taken from their mothers too soon.
Luckily for little Charlie, thought, he was in excellent hands all thanks to the care Carla and her husband showed him. As it turned out, he was about to get some much needed extra support from someone nobody expected.
When Charlie first arrived at the Happy Tails Farm Sanctuary, he was still all alone in the world.
Sadly, his mother had died, and the owner of the farm where he was born didn't want to hand-raise him, so he ended up putting up an ad for him to be adoption.
Additionally, he was so sick that co-founder Carla Reilly Moore wasn't even totally sure that he was going to survive.
He desperately needed surgery to correct a botched up branding of his tail and testicles, and medication to clear up a bad infection which was causing severe diarrhea.
When Charlie came home, he immediately managed to capture the attention of Dora, the family cat.
Dora herself had been rescued. She was found on the Moores' property back in November of 2016 when she was just a kitten. Perhaps she was able to sense Charlie's fear and confusion?
Charlie went for his surgery, and when he came home, Dora was right there to greet him.
"Dora the kitten ran straight to his crate, and stayed with him until he woke up and came out to play again," Carla stated.
Carla was thrilled to introduce the unexpected pair, knowing full well that Charlie needed all the love and support he could get.
"They had an instant connection like it was always meant to be," she noted.
"Dora and Charlie have a kinship now," she added. "Both animals were in dire need, and both animals were taken in by us. Both animals were brought back to health, and together they are now living out their lives here at Happy Tails Farm."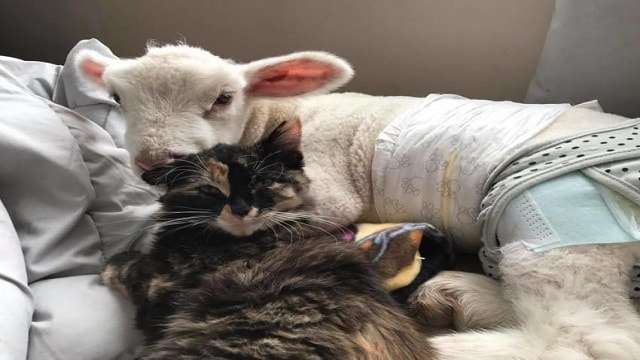 Charlie is currently making a full recovery, and to top it all off, he now has a brand new best friend by his side to help him through it all!
And as the cold weather continues to bear down on them, they're spending much of their time snuggling in the house.
More often than not, you can always find them at each other's sides.
Charlie is getting stronger each and every day, as is Dora, and they're both reaping the benefits of having a best friend to grow up next to.
Naturally, as with all friendships, they're even getting into messes now and then!
Charlie is truly growing up to be an affectionate and contented sheep, and there's nothing he enjoys more than cuddling up to his human friends, also.