UNITED KINGDOM – A cat living in Dundee has chalked off one of her nine lives after staying holed up between two walls for five days.
Lucy, who is a black house cat, had escaped from a property in Lochee and made her way up the busy High Street before having second thoughts.
The terrified feline hid in a partition right in between two neighboring properties on High Street — and was then too scared to come out.
She was later discovered by a concerned member of the public.
His attempts to try and hopefully coax Lucy out were in vain and he passed news of the stricken cat on to the social media page of Missing Pets, Dundee and Angus.
Speaking to the Tele today, Angela Smith 49, part of the Facebook group's administration team, explained that it "wasn't uncommon" for cats to hole up in confined spaces.
She stated: "The resident found the cat between his property and the neighboring building.
"Due to the size of the gap he was unable to get in to retrieve her — with Lucy being a house cat she must have been terrified by the loud noises.
"It isn't uncommon for a cat to find a safe dark place to hide."
Rescuing Lucy wasn't an easy task at all as the stricken moggy refused to budge.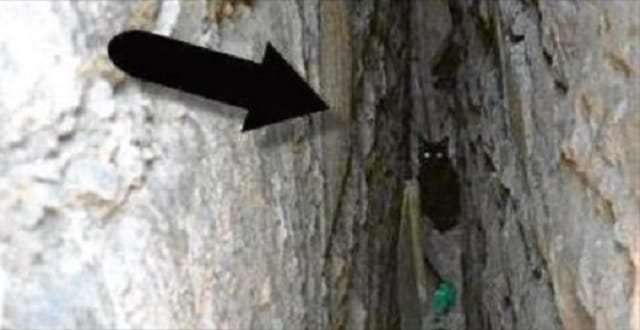 Angela stated: "The resident who notified us did brilliantly.
"He sent us pictures and fed Lucy twice a day."
As Lucy's confinement entered a grueling third day, attempts to entice her out continued to hit a brick wall.
Angela stated: "Cats are more likely to leave a hiding place when it's dark.
"We were worried that Lucy might be struck by oncoming traffic as she squeezed her way out of the tiny gap between the buildings."
However, Lucy's luck was in when her owner heard that a cat had been found — and was able to identify her beloved pet.
Angela went on to say: "On day three the owner heard about our appeal and got in contact with the resident who had originally discovered Lucy.
"The owner was in the process of moving house when Lucy had made a run for it. She went up to the property to try to entice Lucy out but she was still too terrified to move — even with the sight of a familiar face."
Lucy's ordeal went on for another 48 hours before the man who had found her was able to reunite the owner with her beloved cat.
Angela continued: "Lucy is so used to living indoors I could understand why she wasn't for budging.
"Finally, however, she moved into the resident's garden and he was able to recapture her.
"The owner and the resident were communicating with each other by this point, and Lucy was quickly reunited with her owner."
Lucy is now thankfully at home same and sound and recovering from her five-day ordeal.