SOUTH DAKOTA – They are bi-level, crafted completely of cedar, and in addition to providing shelter for cats, also serve as a dry, safe place for their food and water.
Just in time for the upcoming winter, they are the latest bunch of cat condos, hand crafted by 21 members of the Lead-Deadwood High School geometry in construction class. They are built to last and fit for even the most finicky feline tastes in retreat options.
"We're so thankful the high school will build them," stated Twin City Animal Shelter (TCAS) volunteer Teah Pray.
"I think it's a great partnership," stated Industrial Arts instructor Jim Studioso. "It's great that kids can do something to help the local community. This project gave them a chance to get acclimated to the tools and get broken in before we actually start building our main project, the cabin."
All of the materials were purchased by TCAS and, thankful for the community show of support in the students, Pray explained that there is easily $60 in building materials per house, not including the cost of labor, which is being provided free of charge by the students.
She went on to add that the students' efforts help further the shelter's efforts to keep pets with their families.
"People come and get the houses for their cats that live outdoors and may not have protection," Pray stated. "Mainly, people who own their cat and want a little spot outside where they can be protected and can stay warm and dry. We distribute a lot of them, especially if someone adopts an outdoor cat that needs to have protection if there is no barn or garage at the residence."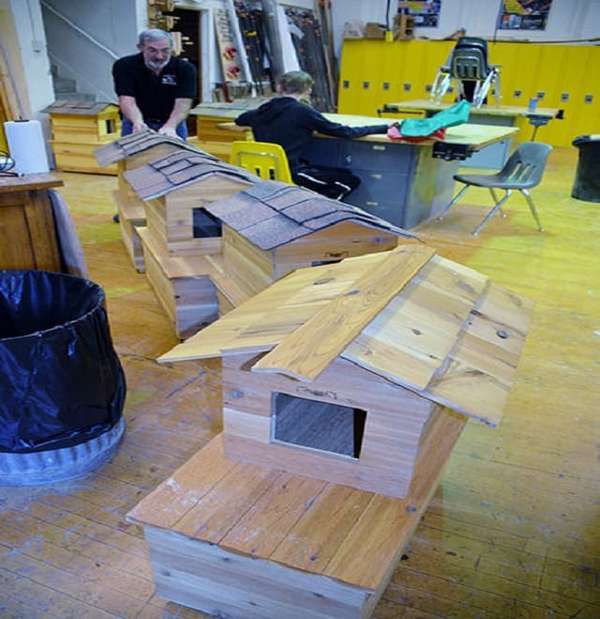 What kind of feedback is she receiving from pet owners who take the houses?
"People say their cats use them," Pray stated. "They're user-friendly for their cats. Cats do need a spot to go in and sleep and have protection from the weather. This is one more service we provide along with community food. We also have a dozen igloo houses the lab recently donated that are available. We provide blankets for pets, beds and, of course, the spay/neuter program. By a shelter providing all of those things, helps keeps pets in peoples' homes. If people can't provide for them, they don't feel worthy and want to turn the animals in. We have a lot of supplies to help keep pets in their homes. We're all about keeping pets with people."
TCAS is also accepting donations to help defray the cost of building materials.
"That helps keep the program going," Pray concluded.