FLORIDA – ACPS wants to remind the public to refrain from littering to prevent this from happening to other animals.
A kitten has been badly wounded after getting stuck in a six-pack plastic ring, Jacksonville Animal Care and Protective Services stated on Friday.
Animal Code Enforcement Officers picked up the kitten soon after someone reported the situation to the city.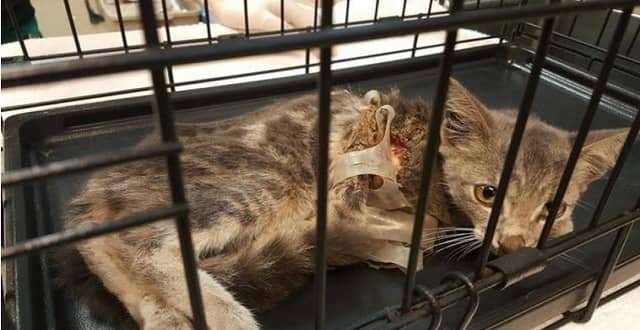 He somehow managed to get a six-pack ring embedded into the skin of his back and one of his front arms.
He suffered some deep wounds and is underweight, but veterinarians said he is expected to recover.
He is likely underweight due to his mobility being greatly debilitated from the plastic bag.
The veterinarians explained that the ring likely got stuck around him when he was smaller, but as he grew, it became embedded into his skin and muscle tissue.
The kitten is expected to make a full recovery!