AUSTRALIA – While most cats despise getting even their paws wet, Calypso the Bengal absolutely loves the water so much she 'surfs' and swims in it.
The seven-year-old cat has always loved the water which owner Monique Macleod, who is 27 and from Robina stated is typical of the Bengal breed.
"She was constantly in the sink with the dishes," she stated.
"She definitely loves water, she likes drinking out of the tap.
"In my old house, she spent time in the backyard pool."
It was here that Ms, Macleod decided to show her how to 'surf' by placing her on a boogie board and just floating her around.
She soon started to take the confident cat out to Currumbin or Tallebudgera Creek out on a paddleboard in the areas where the water was calmer.
Ms. Macleod explained that it only took a few goes before Calypso "got it down pat."
"It wasn't that big of a transition, but she got distracted with people," she stated.
"She'll jump off (the board) for a swim, and then I help her back on."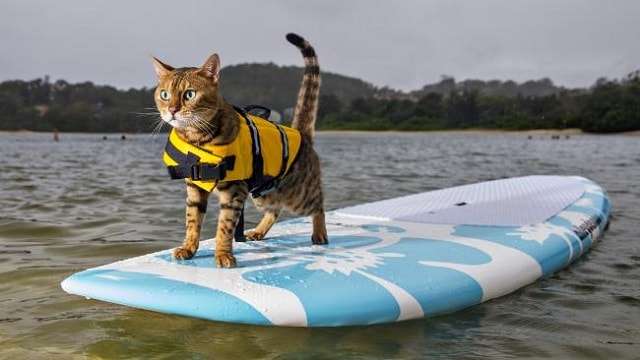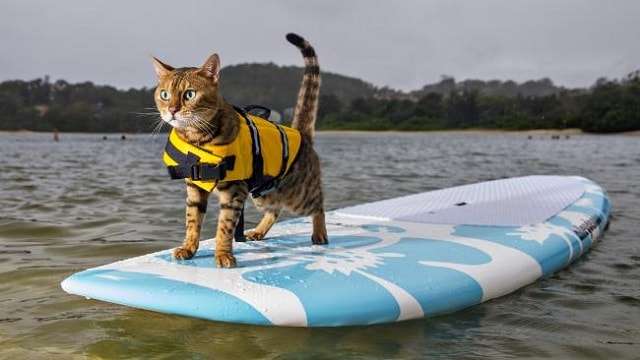 Ms. Macleod stated that Calypso always wore a life jacket just in case there might be rougher water or boats, with a lead hooked onto it.
She explained that her cats were inside companions, so taking Calypso out for a walk on her harness or out on the water was an amazing and fun way to do outdoor activities with her.
Ms. Macleod explained that while Calypso was easy to train, as a Bengal cat she could be mischievous and one of her favorite past times was scratching up the carpet.