There was a time when Rhain was in plenty of pain — but that didn't stop her from showering those around her with sweetness.
"From her very first moments with us, even when she was surely in terrible pain, she was sweeter than maple syrup," states Angela Townsend, who is the development director of the Tabby's Place cat sanctuary of Ringoes, New Jersey, who took the cat in last month.
Six-year-old Rhain and her brother Noah were originally picked up by animal control in East Amwell and were lucky enough to score a ticket to the rescue — but unlucky enough to suffer from several horrible injuries which needed serious care.
Rhain had a huge heart-shaped wound on her belly, which was further damaged when she groomed herself in order to relieve pain with her cleft palate, an abnormal opening in her mouth of which she was born. A very anxious Noah had a nasty burn on one of his legs (the Tabby's Place veterinary team believes the wounds are consistent with chemical burns, but it's still unclear whether they were caused by human cruelty).
Tabby's Place treated both cats with love, pain medication, antibiotics, and plenty of warm compresses. However, despite its best efforts, Noah passed on due to underlying heart disease, a condition that was separate from his injuries.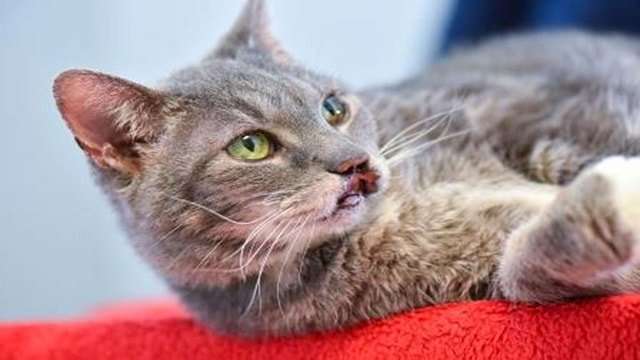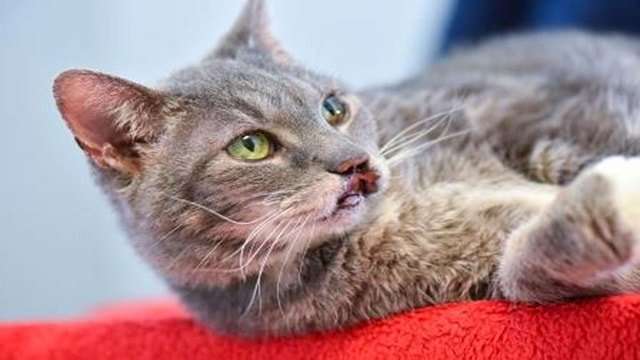 Now, just one month later, Noah's legacy lives on through Rhain, who has recovered nicely but will always have a scar on her belly and a cleft palate, which doesn't require extra care.
"She's learned to eat around her quirk quite beautifully," Townsend states, adding that the loss of Noah was hard on the rescuers but Rhain continues to press on like a soldier.
"It would have been so wonderful to see them adopted together, but we're grateful Noah knew the comfort of his sister throughout his time here," Townsend states. "We miss him terribly already, as he made a very big impression on all of us in a very short time."
This sweet girl has made a huge impression, too, especially among the volunteers there and it's easy to see why.
"Rhain delights in being held, hugged and kissed, and she's an especially gleeful girl," she states. "As soon as you approach her, she'll spring towards you with elation, purring at rock-the-house volume."
Townsend believes this kitty survivor will thrive well in a home that sees her for the amazing companion that she is.
"She's such a mush-mouse that she'd fit beautifully into most situations," she states. "The only requirement would be a big heart and lots of kisses and cuddles to spare for this ultra-loving girl. She's definitely a cat who wants to be part of what you're doing, and to lavish you with love constantly!"
To assist Rhain and the Tabby's Place cats, donate via its website.
And if you're interested in adopting her, click here to learn more.
[mashshare shares="false"]
Photos: MARK LOVRETIN │ Via: people.com