JAPAN – Japan's rail system is very easy to use, even this kitty commuter has no trouble with it.
Sort of like how living in certain zip or area codes has a special panache in some areas, the Tokyo area train lines can acquire a sort of status based on the communities they run through. That said, the Seibu Ikebukuro Line, which runs normally between Ikebukuro and Seibu Chichibu Stations, doesn't have the most fashionable image.
Ikebukuro may still be in downtown Tokyo, but it's definitely not considered as chic or cool as the Shibuya, Roppongi, or Shinjuku neighborhoods. Chichibu is out in Saitama, which regularly gets saddled with the stigma as Japan's dorkiest prefecture, and to top it all off, the Seibu Ikebukuro Line isn't operated by king-of-the-hill rail operator Japan Railway.
However, if you're writing the line off because of all that, you're missing out on something that's got animal lovers' hearts all aflutter. Among the repeat passengers on the Seibu Ikebukuro Line is this adorable guy.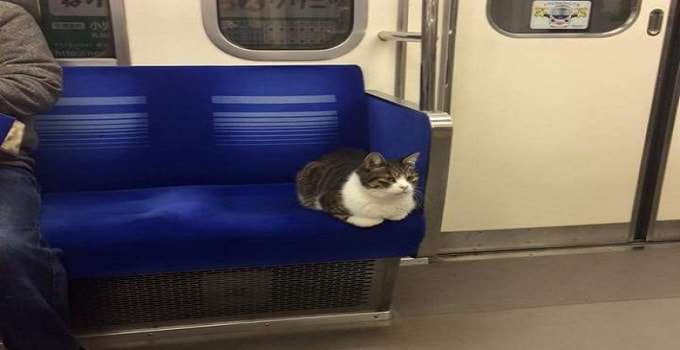 ▼ "Looks like this kitty is on his way home after a day of hanging out in ikebukuro."
https://twitter.com/manpukuoya/status/688653287424278529?ref_src=twsrc%5Etfw
The above photo doesn't display a one-time trip, either. Human passengers on the Seibu Ikebukuro Line have been occasionally noticing that they're sharing the train with a kitty since back in 2013.
西武線に猫ナウ
箱座り、電車慣れしてる☻ pic.twitter.com/osamTkDZuw

— kmky (@kumikoya2737) July 12, 2015
The various people seated next to the cat show that this kitty not accompanying its owner on some excursion into the city. Instead, it is hopping on the train somewhere along the line all on its own. It even seems to be learning the basics of train etiquette, as in recent photos he usually on the bench seat in a compact manner, leaving room for others who want to sit down.
This being Japan, though, sometimes its drowsiness gets the better of it and he unconsciously stretches out a bit during a mid-ride nap.
西武線に猫乗ってた。 pic.twitter.com/UohNXLNFpn

— hama_bot (@hmmtkntr) August 24, 2014
▼ Sometimes he's even got a friend riding with him.
ヤバイ可愛い。西武線なう。有名猫みたいです。 pic.twitter.com/disG7nn2tO

— 尾形誠 (@macop_fl) August 4, 2013
While Japan loves cats, it also loves cleanliness. Pets generally have to be placed in some kind of animal carrier before it can board trains, cute as they may be, passengers with allergies, or simply wearing clothing they want to keep looking presentable, don't want pets moving about the carriage and shedding on the seats. For the time being, though, the Seibu Ikebukuro Line seems to be turning a blind eye to this particular furry passenger.
▼ Maybe he's slipping them a bribe somehow when he goes through the gates
池袋西武線改札に猫おった。かわいかったฅ^•ω•^ฅ pic.twitter.com/PhMzBEhqLT

— けいもんど@ハンター審神者 (@fu_matu) August 30, 2013