JACKSON MICHIGAN – He was found just prowling around a parking lot, but this awfully suspicious suspect isn't the type of fugitive Jackson Police Officer Scott Goings typically pursues.
The curious but shy 10-week-old kitten avoided Goings for awhile by scurrying into and refusing to come out of the undercarriage of a parked car near Great Lakes Caring Home Health and Hospice, 900 Cooper St.
However, Goings didn't give up the pursuit, rescuing the tiny kitten at about 9:30 a.m. Tuesday, July 19.
"When I got to the car, I could hear him meowing and there were all sorts of cat treats around the car, but he wasn't biting," Goings stated. "He wasn't really stuck, he just didn't want to come out."
Goings went to a shop that was nearby and purchased a can of salmon cat food, which successfully coaxed the kitten into his custody.
"Anytime I tried to get him, he would go deeper in the vehicle," Goings stated. "You open up a can of Fancy Feast and they will come running."
The wayward male kitten, who has since been named Jackson, was taken over to the Jackson County Animal Shelter, which is located at 3370 Spring Arbor Road. He's been vaccinated and is in good health, Sandy Clark, kennel attendant said.
"He tested negative across the board for disease, so he was cleared to stay with some friends in a kennel until someone adopts him," Clark stated.
Jackson is said to be a domestic shorthair. He was not wearing a collar, nor is he microchipped.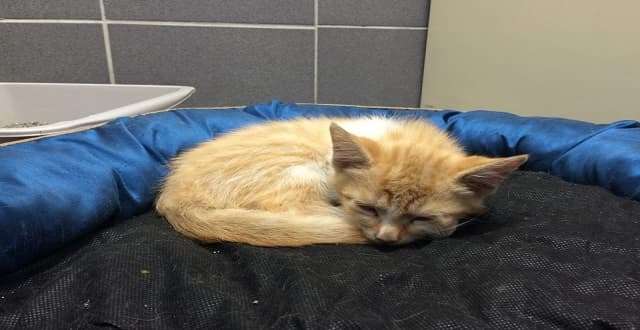 He will be available for adoption starting at 10 a.m. Thursday, July 21. The adoption fee for any kitten is $90 for the first cat and $1 for a second.