A Great Dane and Calico kitty who were left abandoned in a condemned home, are among the many animals whose lives were saved with all thanks going to luck and the fact that help came right in time.
Pattie Cunningham, who is a volunteer with the non-profit animal rescue Strays That Can't Pay located in Elkhorn, Manitoba, got word about the abandoned dog named Betty and a cat named Veronica in the Binscarth, Manitoba area and like any animal lover, she went to take a look.
Once Cunningham arrived there at the house, she was absolutely shocked at what she saw and knew the animals needed help immediately.
"I started to cry. She was so skinny — her hips, her neck. And the wood ticks — she was just covered with them. I picked off 100 and some, easy,"
Cunningham explained to CBC news.
Cunningham also remembers a sweet moment between her and the Great Dane,
"As I bent down to get some out from under her armpits and her inner thigh area, I bent down and she just set her head on my back, because she's a great Dane. It was just such a loving gesture, like 'Oh, human, you're here.' And I just broke down."
Veronica, who is an extremely overweight cat, was also found on the property of the condemned home. She is currently in caring hands
Cunningham got in touch with Alicia Hoemsen, who is the founder of Strays That Can't Pay, asking for help. The animal rescue is currently not accepting in any animals right now due to limited funds. But that didn't stop the rescue group from helping the abandoned dog and cat.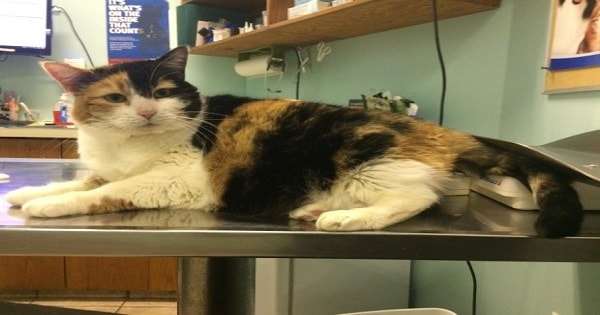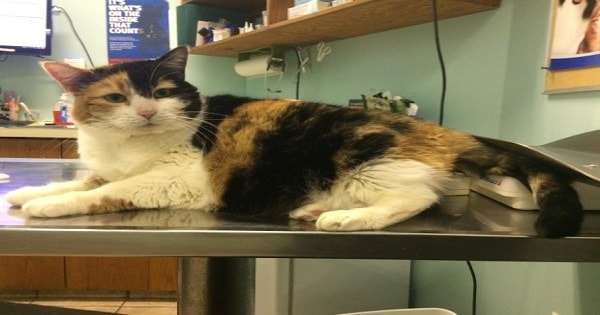 Hoemsen got on her social medias and started asking for donations and the response was completely overwhelming. With a goal of raising $500, just enough to get the animals in the door for an emergency vet visit, the animal rescue raised a total of $770 within 24 hours from kind people wanting to help.
Both animals have now been to the vet and are in good shape. Veronica needs to lose some weight and Betty needs to gain some. Cunningham mentions that the donations came pouring in because of how tight-knit the community is, "This is small-town Manitoba, and we all kind of look after each other. And that's exactly what happened."
Strays That Can't Pay is still currently accepting donations to help continue their operations. If you'd like to donate, click here. For more information on Strays That Can't Pay, please visit their website.
If you happen to come across a dog or cat, or any kind of animal in need, check out these Animal Rescue Hotlines. And please, always adopt – don't shop!
Photo credits: Strays That Can't Pay/Facebook