A tiny stray kitten who had a broken paw hobbled up to a man, meowing for help.
When Robin Seplut was out feeding the local strays, he stumbled upon this tiny kitten walking up to him with a limp. The kitten helplessly cried out to him as he approached. Robin knew he had to help.
"I saw a kitten with a broken paw. This homeless kitten lived on the street," Robin stated.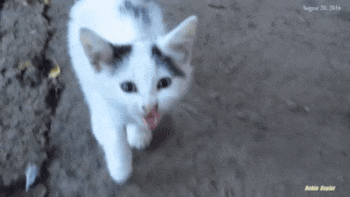 And so, he scooped up the little kitten and took him over to be seen by a vet.
The kitten was given an x-ray and found a fracture to the patella.
The wee one was given an injection to help with swelling, and the man was told to bring him back to the vet on the following Tuesday.
Robin decided to give the little kitty a much-needed bath to remove all the fleas and followed it with a big hearty meal.
The kitten was so happy to have a safe place and a warm bed to sleep on that night and some delicious noms to eat!
10 days following the rescue and his paw was almost completely healed.
What an adorable kitty! We here at The Best Cat Page wish him the very best!