SYRIA – Increased airstrikes in Aleppo, Syria have meant misery, suffering, and death for both human and animal.
Mohammad Alaa Aljalee, who is the compassionate ambulance driver who remained in the country to care for hundreds of stray cats left behind when families fled their pets, has recently been forced to stay indoors due to the danger of being arrested or killed as his world famous cat sanctuary was bombed two weeks ago.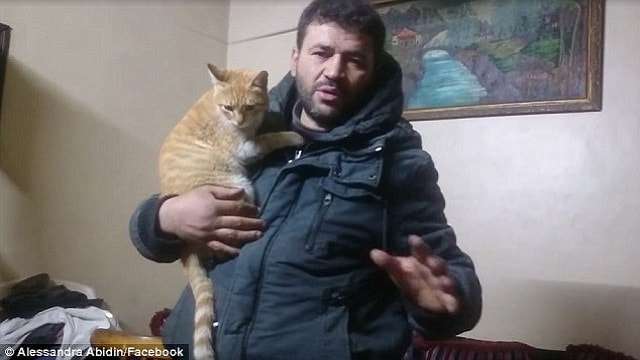 Many cats, in addition to its mascot dog, Hope, were killed.
The sanctuary had been housing hundreds of stray cats and served as an oasis of gentleness in the hell of war, with children often coming to visit and play with the felines.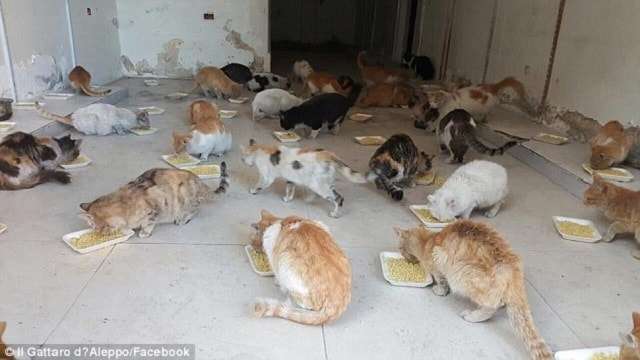 Aljalee took excellent care of the animals with the help of cat-loving donors from around the world.
However, recently the heart-warming story took a turn for the worse as the area directly around the sanctuary became a constant target for bombings.
Aljaleel's ambulance, which he used daily to transport children and adults to the hospital, was also completely destroyed, as was the gutted city's last hospital.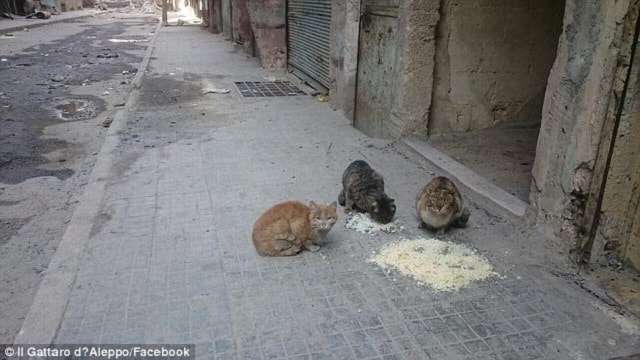 Aljaleel, who is known as Ernesto or Alaa, had been chronicling his rescue efforts faithfully on Facebook, was able to relocate the cats to a room in a safer area of Aleppo after the sanctuary was destroyed.
However, within the past few days, that area too was too close to bombings, and Aljaleel began giving the cats to people who were fleeing to safer areas, said Alessandra Abidin, a rescue worker who has been assisting Aljaleel.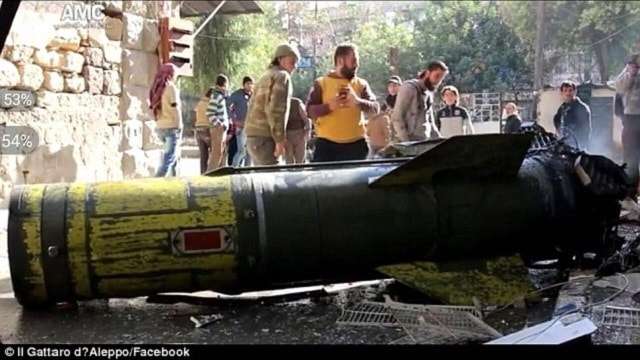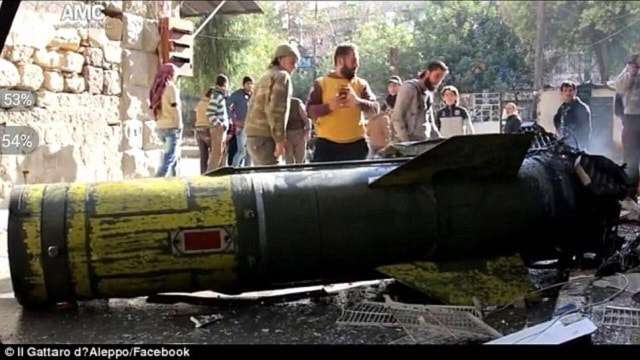 And now the humanitarian's own life is in danger – and his young son is being forced to leave the area.
On Wednesday, Abidin noted on Facebook: 'This is the last night you'll see Alaa with his son, the little Adel. Tomorrow [he] will try to go with his mother in a safer area, Alaa and adult males can not get out, they can be killed or arrested, so the women and children go away.'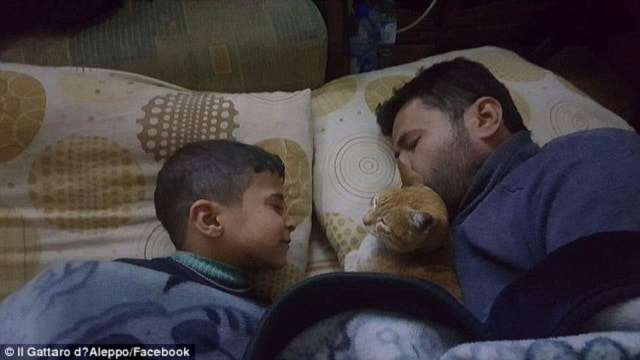 It's unclear just how many cats have been whisked to potential safety, but Abidin posted pictures of several cats as they were hanging around the old sanctuary, where they are fed rice on the ground. Aljaleel tries to mix the rice with meat, however, supplies have been getting more scarce and expensive.
On Tuesday, Abidin explained that the area was being bombed so heavily that Aljaleel was trying to seek shelter, 'running away from home to home.'
Aljaleel himself has gone quiet on Facebook in recent days as Internet access has become more difficult and his situation more precarious.
Back in September, Aljaleel told the BBC he planned to stay with the cats 'no matter what' and had taken a vow to protect them.
'I regard animals and humans in the same light. All of them suffer pain, and all of them deserve compassion,' he stated.