A very unhealthy and skinny stray cat who weighed only 5 lbs, was all smiles when he is given a place to call sweet home. This is Wallace the cat!
One Thursday evening, Karyn Poplin of Kitty Adventure Rescue League & Sanctuary received an important call on Facebook looking for help for a black and white cat that had somehow wandered into a district.
"When I sat the first picture I knew I need to help immediately " Karyn stated.
It's a mystery as to how this undernourished cat just wound up on the streets and how long he had been fending for himself.
"We think that he had an owner before. But, we are not sure if he had a bad luck or if someone dumped him off on the streets. His owners never come and he was not microchipped, so we took him in," Karyn explained to Love Meow.
Wallace is somewhere between 7-9 years old. He is missing a several teeth and barely weighing 5 lbs.
"He is 100% legs! He's so tall!"
When they took him to the vet's office, Wallace was smiling and purring the entire time.
"He is a very lovely cat! He was very happy to have someone to play with him," Karyn said to Love Meow.
Wallace finally ate properly in a long while. He purred the loudest purrs you can possibly imagine when he finally got a can of real cat food!
"We have a positive outlook for his rehabilitation. No kitten should be this skinny!"
Since Wallace moved into his permanent sweet home, he is looking so much better and has even made a brand new best buddy.
"His roommate is 20-year-old Oswald and they are now very good friends. Wallace`s favorite place is the window and Oswald takes the beds."
He purrs each and every time he sees his humans, always wanting head scratches.
Wallace also now has a favorite napping spot by the window. He's got some food on his face, but that`s not a problem for him
Just a little bit of cheese and chicken for treats make Wallace the happiest kitten in the whole wide world!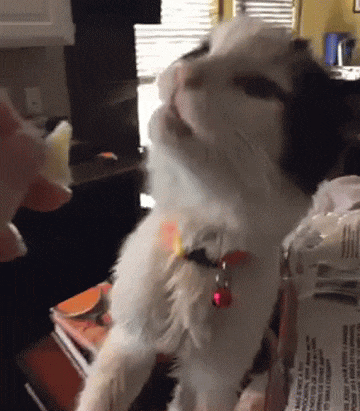 If you were inspired by this happy story, be sure to share it with your family and friends!
You can also follow Wallace at Kitty Adventure Rescue League's Facebook page.