If you have an indoor cat, then you have a litter box. And changing the kitty litter frequently may keep all of the odors at bay, but finding a suitable place to keep the box itself is another problem entirely, especially if you live in a home with little square footage.
However, with just a little bit of creativity and ingenuity, you can easily conceal your cat's litter box, or even transform it into a stylish part of your home.
A hideaway kitty litter box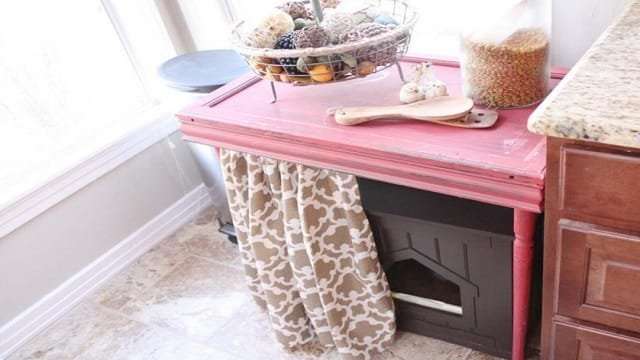 Blogger Amy Walton, who is a self-proclaimed "crazy cat lady," shares her home with three cats, but her furry friends' presence doesn't detract at all from her home's decor. Using only a table, a curtain panel and a spring curtain rod, she created an adorable way to hide the litter box.
A creative cat center
Lesley Clavijo built this particular cat center from old porch boards, and it not only serves as an attractive way to conceal the litter box, but it also keeps all of the cats' items organized. And of course, it also does provide them with a place to escape from the dog.
Here's a look at the inside:
The litter box bench
Function and design are combined in this clever DIY project. The bench provides extra seating within a small apartment, and as long as the litter box is clean, guests may not even realize it's there.
The under-stairs hideout
When blogger Mary Ostyn found herself raising both kittens and toddlers at the same time, she needed a place to store the litter box away from grabby hands. And so her husband cut a hole in the wall under the stairs which led into the under-stairs closet, and her kittens had a safe place to do their business — and hide from the children.
The IKEA hack litter box
A Byholma chest from Ikea may be transformed into a litter box concealer with just some wire cutters and a glue gun.
A pallet litter box with scoop holster
Made all from pallets, this upcycled design can be customized to fit around any litter box and with a nifty holster to hold the litter scoop, it's also quite practical.
An upcycled furniture litter box
Many old pieces of furniture can give brand new life by transforming them into creative litter box concealers. This one was crafted by removing all of the drawers from an old dresser and then combining them to make a door.