ELDENE, SWINDON, UK – A curious cat who one day simply wandered off and didn't come home has finally been reunited with her owner 14 months later.
Lisa Downey, 36, had just about given up all hope of ever seeing her beloved black cat, Bailey again after the friendly feline went missing from Eldene in November 2014.
The Travelport employee made a desperate plea for information on Facebook, posted leaflets in mailboxes and enlisted the help of her friends to scour the area but months passed and she began to think Bailey was gone for good.
So Lisa astonished when Eastcott Vets rang her a few weeks ago to say the kitty had been found safe and sound .. and that he was well!
"We couldn't believe it, we really thought we weren't going to get her back," Lisa said.
"She went missing November 18, 2014 when we moved back in with my mum in Eldene from Moredon. My fiancé James and I were saving for our own house and we had only been there a week and she got out and went on her wanders.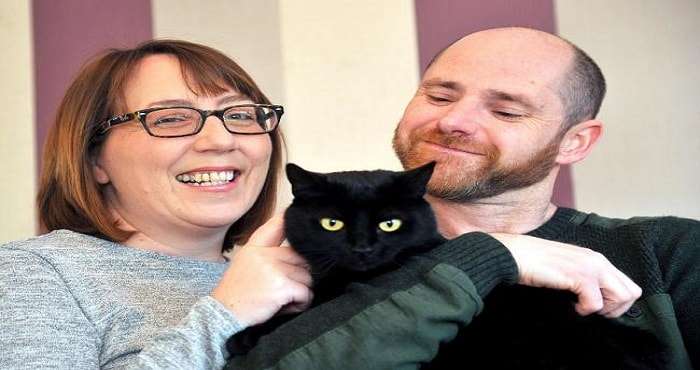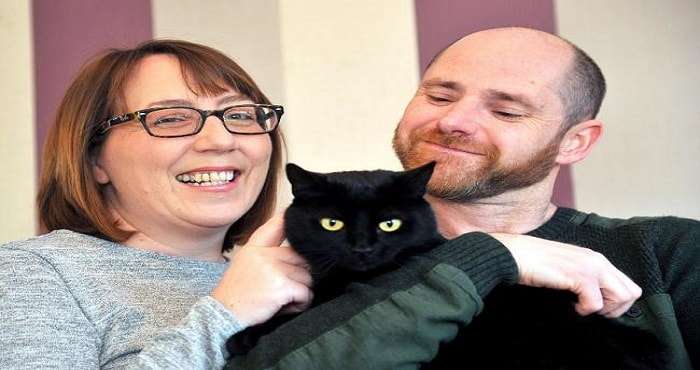 "We kept going to Montrose Close in Moredon, where we used to live, to see if she was there and we went to see so many cats we thought might be her.
"We even picked up dead cats thinking it would be her. It got to six months and we thought we weren't going to have her back."
However, when Lisa got the phone call she never expected that Bailey would survive more than a year away from home she also discovered this cunning cat had been living a double life as the 'Tyco Cat' at Tyco Electronics UK in Dorcan, while also being fed by a mystery woman who is believed to be living in Liden.
The cat was let out the bag when the woman took Bailey to the vet because she wanted to adopt her. The three-year-old's microchip was scanned revealing the true identity of Bailey's real owner.
Lisa, who has moved to a new house in Eldene and is now happily married to James, 36, said: "If it hadn't have been for that woman we would have never have got her back. It is a shame we didn't get her address because we would have liked to have sent her flowers and say thank you.
"If it hadn't have been for the chip as well she would still be missing, that's why people have to get their cats chipped.
"Bailey seemed to recognize us but spent the first day hiding behind the sofa, but she has been settling in well.
"All this time she must have been only five minutes away from my mum's house in Kennedy Drive."