Cricket, the bowlegged kitty you can see in the pictures, has had a rough life so far. He was abandoned as a kitten and extremely malnourished when he was found. Cricket was found in a closed carrier ridden with feces with a "Help me" note on it. The cat was in such a bad condition that vets weren't sure it'll survive.
Cricket was almost fully bald and emaciated. He weighed half of the weight for a normal, 5-month old cat and was under-developed as well. His legs were bowed, with the vets attributing this problem to the malnourishment. Everyone was so heartbroken to see Cricket in that condition – he was weak and helpless on the verge of death.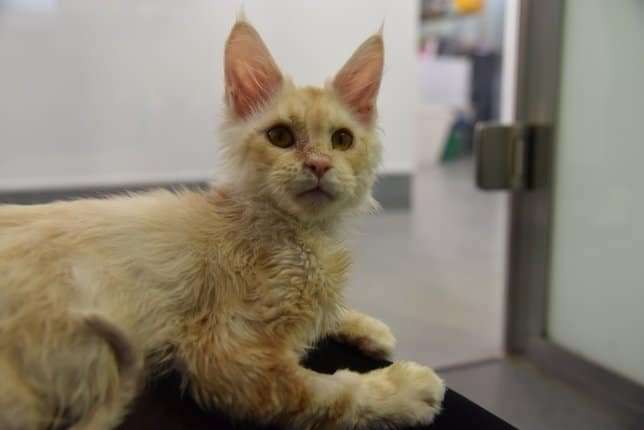 But, the Battersea staff wasn't going to give up on the kitty. They nursed him back to health and his fur started to grow back. The vets aren't sure if Cricket's legs will ever develop properly, but otherwise than that, he's now a fully healthy and affectionate kitten. Right now, they're looking to find Cricket a forever home, preferable at owners who are financially stable.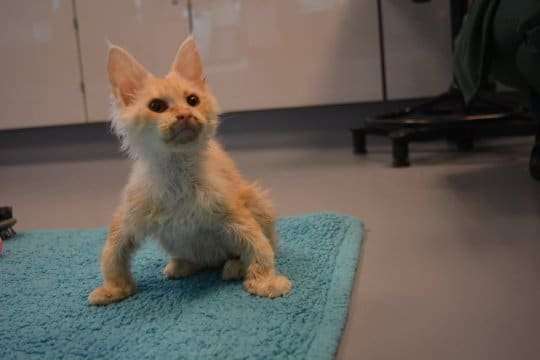 Cricket needs a home with no other cats, but he'll be OK with dogs. His shouldn't share his home with children, but he can live with teenagers. Cricket's previous owner was obviously not able to care for him, so now he needs all the attention and care he can get.
If you love this cutie pie, you can give him all the love he deserves.