ENGLAND – Some outraged customers have threatened to boycott the One Stop in Bournemouth after a beloved local cat was banned from the store because of one anonymous complaint.
Dave the cat, the extremely friendly ginger tabby who lives in the flat opposite, was regularly seen napping in the shop and enjoyed being fussed over by customers.
However, the shop owners have decreed that he will indeed be thrown out if he ventures back inside after one customer complained about him.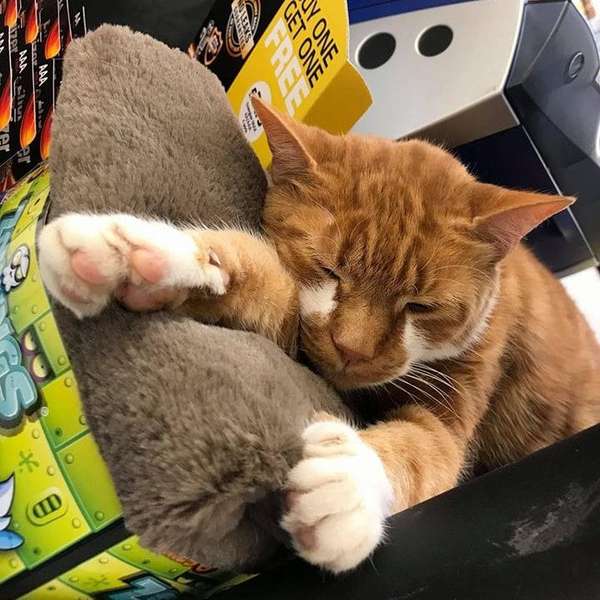 Customers have said Dave now sits "pining" outside the door since the ban, and have threatened to boycott the shop after witnessing the heartbreaking scene.
One local, who works at the One Stop, stated on Facebook: "I work at the OneStop where this beautiful old cat has been coming into for the last 13 years.
"One woman recently changed his life forever by complaining to our head office, now they won't let him back in.
"Please post your name to this if you think he should be allowed in, all our foods are wrapped, he just sits by the till."
Former One Stop employee Michelle Denton stated: "I don't understand the decision. The customers love him. He's a lovely cat and all he wants is company.
"When I worked there, he used to come through the door and settle down in some boxes or have a nap near the lottery machine. I never received a complaint about him.
"All the food in the store is sealed so there's no health and safety issue.
"People who weren't even local to the area would come to take photos – he brought customers to the store."
One resident went on to suggest: "Ban the complaining customer."
Another said: "If this lovely cat is banned I refuse to shop there! I hope you're able to change this!"
And another responded: "Walk past that cat all the time. Lovely, friendly little thing. This is ridiculous, let him in the shop"
A One Stop spokesperson stated: "We're all very fond of this cat in Southbourne and have asked colleagues not pet him or feed him in store."