Sounds like just a regular situation, doesn't it? A mama cat delivering her kittens. Not so cut and dried in the case!
The young Siamese mama cat-to-be required a C-section on account of a sizable hernia she had.
Because of this hernia, she and her kittens faced a huge dilemma. With this type of a complication added to the pregnancy, the poor mama and and all of her kittens would have died without this emergency C-section. It was their only hope.
"An owner in Sultan (WA) had at least 16 cats (most of them Siamese) and he brought us four very pregnant cats. These cats were not strays, but were not living in an ideal situation, as they were in and out of a barn on acreage," Purrfect Pals Cat Shelter told Amy of Love Meow.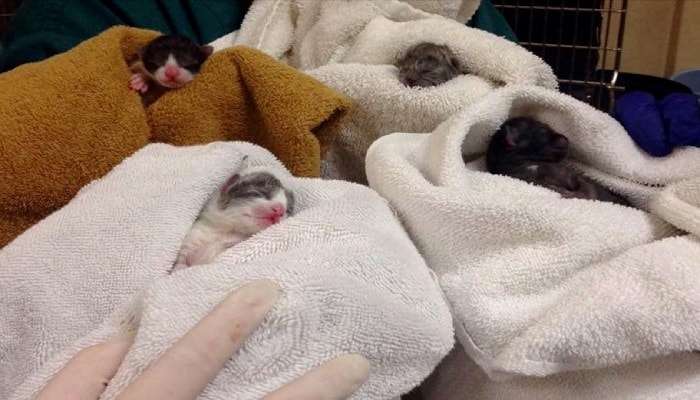 "Mom cat was born with the hernia and owner said he was not able to afford $1,000 for surgical repair… This resulted in the decision to do an emergency C-section, and this saved Mom cat's life and the life of her four kittens too."
"She was pretty confused at first about where the kittens came from and what she was supposed to do with them. Her foster mom, Kelsey, bottle fed the babies every few hours while mama adjusted and now she has settled in and accepted motherhood!" Purrfect Pals said.
Cats can become pregnant as young as four months of age, having a litter when they are six months old. "They can be spayed/ neutered which is typically 8-10 weeks (but have to be 2 pounds)," Purrfect Pals Cat Shelter told Amy. Many clinics that offer low cost and free spay and neuter services.
"The mama cat practically looks like a kitten herself! She will have an amazing life now."
The proud mama and all of her kitties will eventually be available for adoption. For more information or to follow their progress, please contactPurrfect Pals Cat Shelter.
Yet, another happy ending.
Photo credit: Purrfect Pals Cat Shelter.