Denise Vlahos is describing the entire incident as "by far the craziest and saddest thing" she's ever seen.
This past Saturday, she rescued a cat "swimming for her life" in the middle of Lake Pleasant in Peoria and now she's trying to find the feline's owner.
Arizona's 12 News was the first to report the story involving Vlahos, who told PEOPLE she was on her boyfriend's pontoon boat for the day with friends when a person on a waverunner alerted her to the cat swimming in the water.
"The woman said my husband is allergic and they cannot keep it. I immediately stated, 'Give it to me, I will take it!'" she recalls. "She was curled up in a ball in the foot part of the waverunner soaking wet, dripping and shivering. The water was quite cold for us, let alone a tiny animal."
Vlahos, who has two cats of her own, immediately wrapped the cat up in a beach towel to keep her "as warm as I could." Right after, the couple took her home and put the cat in their spare room where "she crawled straight under the bed."
"The cat owners have not come forward yet, but I hope that they do after getting her story out there in the public," she explained to PEOPLE in an email. "It is most definitely a miracle she's survived."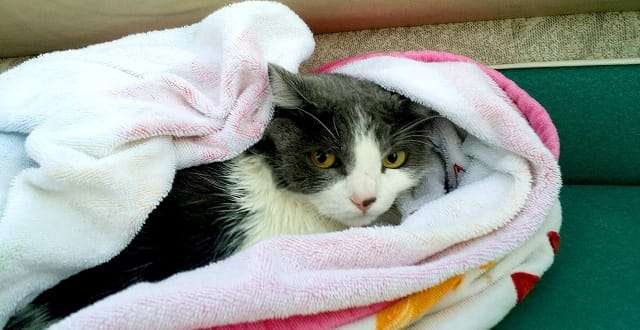 Vlahos stated her duty right now is to keep the cat safe and do everything she can to find the animal's family.
"She is just so traumatized still," she went on to say. "I am not sure of her personality other than she has not hissed, scratched, growled, or has done anything to show aggression, Only fear or cowering when I get near her."