MARYLAND – Banging on the hood of your car to see if there might be a cat in your engine is one of the most widely shared animal welfare PSAs on social media.
During the cold winter months, stray cats will seek refuge in the warmed-up engines of parked cars.
And that's precisely what happened to this cat in Baltimore City, where there is no shortage of vehicles lining the streets – absolutely easy for chilly cats to climb up into.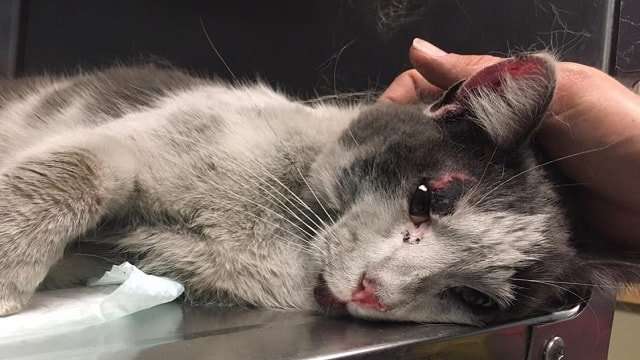 "That is what we think happened to Hanover, a kitty who came into BARCS yesterday covered in wounds from head to toe, engine grease, and soot," BARCS shared on their Facebook page.
"He was found lying on Boston Street in the city, by a nice woman who noticed a little gray lump in the road and took the time to pull over. When she realized it was a cat, she scooped him up and rushed him to BARCS."
"When Hanover arrived, he was bleeding from his mouth and in bad condition. His large abrasions are streaked with a thick, black, grease-like substance. Even the pads of his feet have injuries covered up by oil and grease. Painful doesn't even begin to describe the way Hanover looks. And yet, amazingly, Hanover's biggest concern is bearing the pain in order to rub, love and purr on our staff."
Hanover the cat is a prime example of why this simple winter morning ritual is so important—and can even save lives. Getting kitties out from under the hood of the car can prevent engine burns and cats falling or even jumping out while the vehicle is moving. A sticky note reminder on your driver side window can be the difference between life and death.
Hanover is now resting in the home of an experienced medical foster and he is fortunate to be alive.
His foster mom has reported that Hanover is eating and drinking water. Hanover is enjoying lying on her cool tile floor and also napping in his plushy bed. He is on antibiotics, pain medication and will have many and various appointments with both the BARCS veterinarians and their Franky Fund partner hospital.
This poor cat has a long road ahead of him, but he's made it through the worst parts.
Once Hanover is fully healed, he'll be looking for a forever home.
Photo credits: Facebook/BARCS / Follow BARCS Animal Shelter on Facebook! / Via www.iizcat.com