A pet cat brings love and joy into any home that accepts them with open arms and hearts, but that love gains even more special meaning when the cat is a rescue from the streets.
Many of these adopted cats have been saved from the very brink of death. If you're considering getting a cat, we hope that this list will convince you to to adopt and not shop.
And rescue kitties need love, too!
#1 JUSTIN. FIRE SURVIVOR
#2 Shelter Found A Box Of Kittens With Only One Living, A Blind Cat. 6 Months Later, She Is Healthier Than Ever
#3 Bunny Was Found Wounded After Being Electrocuted. Here He Is A Few Months Later
#4 Mr. Biscuits Tried To Get Warm In A Car Engine And Was Burned Badly When the Car Was Started and Driven
#5 Kitten Was Found Half Dead. Here She Is A Month Later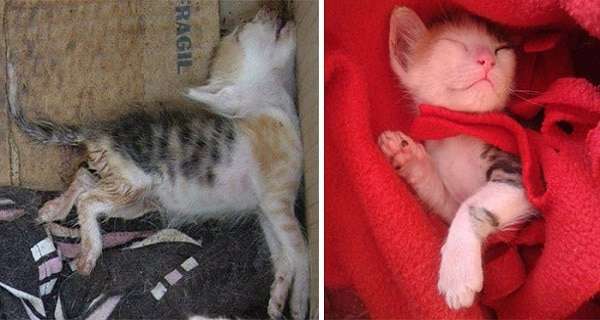 #6 Abandoned In The Gutter Just Two Weeks Old, Louie Is Now The King Of His House
#7 A Rescued Kitty Before And After
#8 Kodama, Found With A Maggot-Infested Wound. 6 Years Later, She Is Happier Than Ever
#9 Little Kitty Was Found Saturated In The Cold Rain. Now Utopia Has A Loving Home
#10 Rescued Kitty Before And After
#11 Stuart Little After He Was Found And Loved Back To Health
#12 Scout, A Scrawny, Stray Cat, A Year Later
#13 Tyrion Had An Eye Infection, But Today He Is The Cutest Fluffball Ever
#14 Spyder Was Found In A Drain By A Kind Guy Who Gave Her A Forever Home
#15 Duncan Was Found Injured In The Middle Of The Road. A Year Later He Looks Much Happier