CALIFORNIA – Literally, hundreds of kittens come through the doors of spcaLA South Bay Pet Adoption Shelter each and every year.
However, nearly all of them are common American shorthairs.
This week, the pet rescue center put a litter of six extremely rare and extremely cute polydactyl American curl felines up for adoption.
They have a genetic abnormality which creates a sixth toe and are also members of a breed that has unique ears that look like they had a bout with a curling iron.
SpcaLA President Madeline Bernstein declared they are the strangest adoptees she's seen in her tenure.
They were brought into the Yukon Avenue shelter along with their mother nearly three months ago, shortly after they were born. Since then, the family has been in loving foster care while the kitties were weaned.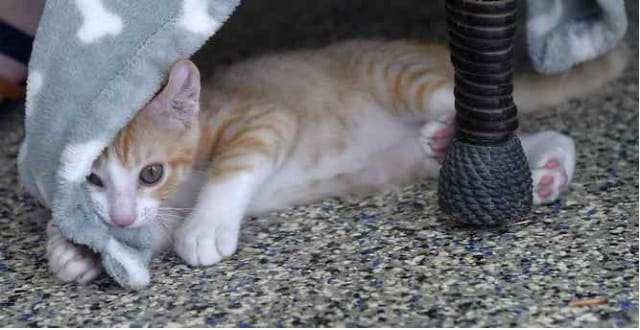 Just this week, having become accustomed to solid food, they were placed in "Kitten Room A" for adoption at the shelter. Within days, two were taken home by families who were absolutely wooed by their wide paws and cupped ears.
Their mom, who is also waiting for a forever home, was named Mrs. Hemingway because author Ernest Hemingway famously kept dozens of polydactyl cats at his Key West home. The house has been turned into a literal museum that still cares for the descendants of Hemingway's pets.
"No one at our shelter has ever seen a cat with these two traits," stated spcaLA spokeswoman Ana Bustilloz. "Mom has extra toes. We have no idea who the father is but we're assuming he had some American curl gene in him. I've seen polydactyls before, but only a handful of American curls."
The Hawthorne shelter has adopted out 642 cats and kittens since May 1 and currently has about 100 felines living there now, awaiting homes. The increasingly warming weather has lengthened the traditional summer kitten season into the fall, Bustilloz stated.
"We're doing anything we can to find homes for them," she concludes.