JAPAN – The story of Hachiko the faithful Akita is renown across Japan. As the tale goes, Hachiko was the beloved pet of a professor who taught at the University of Tokyo back in 1924. Every day when the professor left for class, the sweet dog would follow him to the train station and patiently wait for his return home. One day, however, the professor suffered a brain hemorrhage while he was at work and never came home.
Hachiko continued to wait at this particular station for his guardian to come home every day for the next nine years! His incredible love and loyalty to his human remained consistent up until the very day he passed away.In honor of Hachiko's commitment, a statue had been erected to commemorate this amazing pup.The Hachiko statue is nestled in a high traffic area of Shibuya train station, but during off-hours he probably gets pretty lonely. Luckily, a new feline companion decided to just "show up" to keep him company while the commuters are at work!
This cat has been keeping Hachiko company each and every day for quite some time now.
Reportedly, the cat comes to sit alongside Hachiko's statue every day. The adorable kitty is absolutely adorable and is said to be very friendly which has captivated the attention of tourists and Shibuya-natives alike!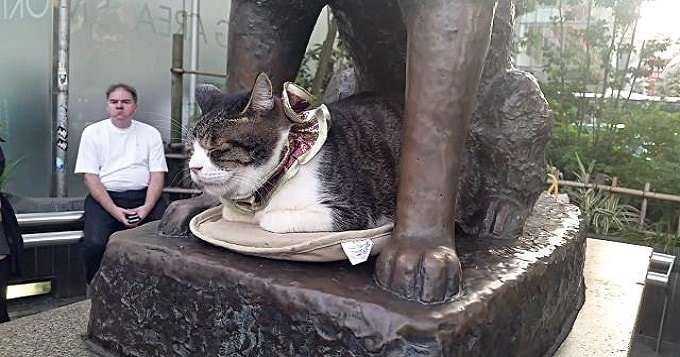 It's generally accepted that the cat is not a stray by the appearance of its shiny coat and multiple fashionable scarves, but a guardian has yet to step forward.
The cat, like the dog, has also attracted his own throng of admirers.

The cat's handsome appearance combined with his air of mysteriousness may see him, too, immortalized in a statue one day! We think the Hachiko statue would definitely love the company.
Friends truly do come in all shapes and sizes. After many years of Hachiko's loyalty to his hooman, it is wonderful to see that his statue now has a friend that will be as steadfast and true in return.
To this day, the cat still goes there.
Watch Hachiko the Cat in action here: