This is the story of Zoee, the calico cat, who doesn't go anywhere without her little calico toy!
Zoee and this odd looking little kitty of hers have been inseparable since the day they came into each other's lives!
"She did indeed pick that toy as her favorite, it was a 2 pack but she never touches the other one (a gray kitty head)," Sarah Brandt told Love Meow.
Apparently other various toys have been presented to Zoee over time, but she always goes back to this one … her favorite … her "baby." Though Sarah continues to buy new ones, none of them seem to stand a chance against this particular one!
"When I come home from a store she waits to see if I have anything for her. My dog also waits for a new toy or bone when I come back from the store. They're a bit spoiled."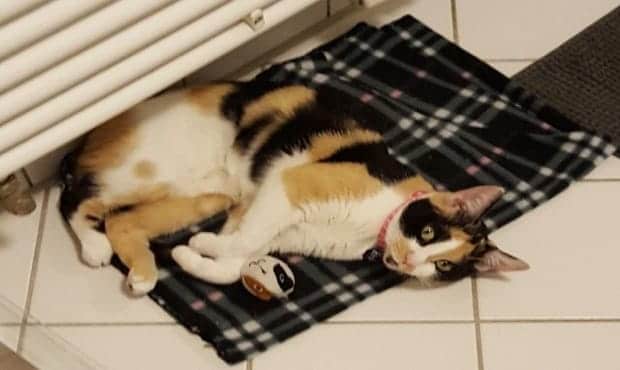 (Always together!)
If anyone ever happens to be looking for that toy, it's a given, just look for Zoee and you will also locate the toy!
"She'll play fetch with it, just walk around with it, sleep with it, give it to the dog to lay with, and bring it to the door when I'm gone," Sarah told Love Meow.
 (Even when Zoee is spending some quality time with her doggie buddy, the toy is right there with her)
Sarah often plays "catch" with the toy and Zoee just can't seem to get enough of the game!
Watch this adorable video clip of Zoee and her wee one!
Does YOUR kitty have a favorite toy?
Photo credits: Sarah Brandt