CALIFORNIA – A 14-year-old Boy Scout out of Rancho Peñasquitos made curtains for kennels to keep kittens a bit warmer and help block germs spread by the young felines sneezing on each other.
Derek Chow worked with members of his Troop 667 to create 15 kitten kennel curtains for the San Diego Humane Society as part of his Eagle Rank Leadership Project.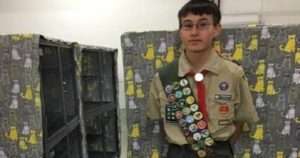 The curtains, which are made of cotton flannel with cat designs, cover the tops, sides, and backs of the kennels, make the kittens feel warmer and safer until they are old enough for adoption.
The purpose of the curtains is to help stop the spread of infectious diseases such as upper respiratory infection, transmitted through coughing and sneezing by blocking the sneeze droplets from getting to other kittens in neighboring kennels, explained Dr. Gregory Chapelle, the troop's assistant Scoutmaster.
Derek, who joined the Boy Scouts when he was just 10, had previously volunteered at the Rescue House, which is a volunteer-based nonprofit cat shelter that provides foster care for rescued cats. Derek even helped socialize kittens before they were adopted. He went on to sew 19 cat blankets which all went to newly adopted cats going home in carriers, which led him to the idea for his kitten kennel project.
The project involved training volunteers and coordinating the sewing efforts on multiple and various sewing machines with the help of troop members, friends, and family.
Boy Scout Troop 667 members cut fabric based on a pattern, pinned the fabric together and then proceeded to sew along the correction seams to create the final product. Each curtain required a total of five yards. After a month and a half of work, the project was completed and delivered in March to the San Diego Humane Society at 5500 Gains St. where all the curtains fit perfectly.
"The best part of the project was teaching other Scouts new skills and watching them use it to create a finished product," Derek stated.