FLORIDA – A routine trespassing call in New Port Richey took an unexpected turn Thursday when two Pasco County deputies found themselves rescuing a kitten as a bonus.
When Deputies Keelie Peckham and James Cantagallo first arrived at the location near Ridge Road where the call had originated, they couldn't help but notice the sound of a crying kitten, the sheriff's office wrote in an email to media. A quick look sweep led the pair to a small, 8-week-old kitten that had been tied up.
The deputies made contact with two people who informed them they could not pay for the kitten, the email said. They had actually tied it up to keep it from running away.
"The kitten was bloated, had fleas, smelled of urine and had visible marks from being tied," the sheriff's office stated.
After handling the trespassing call, Deputy Peckham drove the kitten over to Gulfview Animal Hospital for care. The staff there provided the medical care the wee one desperately needed and sent the two on their way.
It also seems the kitten managed to steal at least one heart during its time at the sheriff's office. A member of the agency, in the end, decided to give the kitten a home.
As for the people who were involved in the original call, the sheriff's office reports they were charged with trespassing. No charges of animal abuse were filed. Their identities have also not been released.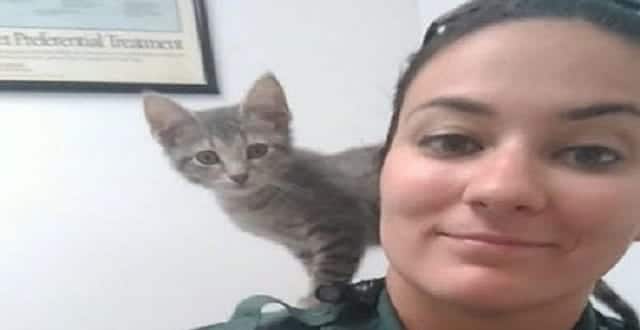 Photo courtesy of the Pasco County Sheriff's Office