OHIO – Anyone taking college classes knows just how much time it consumes between going to class and constant studying.
The goal for most students these days is to be able to take their knowledge and use it in real world settings.
For one veterinary technician student out of Kent State University's Trumbull Campus, homework took on an entirely new meaning, all because of four little kittens.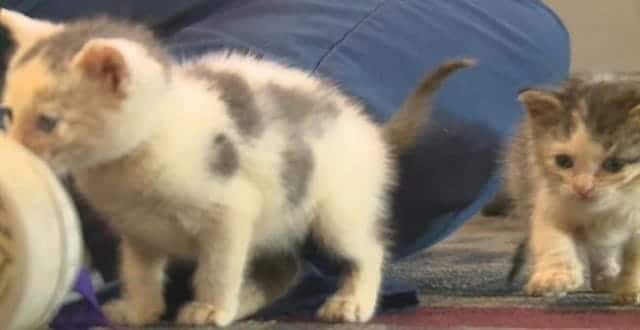 Sam Olson is currently in her final year of the Vet Tech program. So far, this semester has been more memorable than she ever imagined it would be after spotting four abandoned kittens during a trip to a local animal shelter.
"They were understaffed as far as fostering goes, so I volunteered", she explained.
Olson filed paperwork and then began fostering the newborn kittens, which she said was like a full-time job.
"When they were small they were very, very weak. Just getting them to suckle and eat was a very big deal," Olson stated.
For the first few weeks, Olson would tube feed the kittens every two hours, day and night. Now, four weeks has passed and they're growing healthy and strong, which makes for an easier work load on Olson, but still keeps her quite busy.
"I wake up and feed them and change the litter box. I do their laundry twice a day so they have clean blankets. It was a lot more in the beginning because they had to be tube fed because they were too weak to suckle, so I'm in the easy part now," she mentioned.
In the Vet Tech program, Olson actually learned about caring for orphaned kittens, making this experience the absolutely perfect chance for a real hands-on opportunity.
"There's a lot of formulas as far as their nutrition goes. You have to calculate what their caloric intake should be and things like that. That's just something you'd never know without learning it," Olson went on to say.
Melissa Best, who is the Vet Tech program's coordinator, hopes what Olson did will inspire other students in the program.
"Sam is the first one. I would love to see more students get involved with helping the animals," Best stated.
Olson has approximately two more weeks left to foster the kittens, from there they'll go back to the Animal Welfare League of Trumbull County, where they'll then be placed up for adoption.