VIRGINIA – Chicky and Nugget must have truly been destined to be best friends for life.
The two of them both arrived at the Shenandoah Valley Animal Shelter on October 3, but while Chicky, the kitten, had been found in pretty good condition, Nugget, who is the puppy, was in rough shape reports The Dodo.
A man had arrived at the Virginia shelter with Nugget and begged them to help the dying pup. Her body temperature and glucose levels were extremely low, and she was unconscious.
Despite their very best efforts and medical attention, the poor pooch still struggled to even lift her head. She was then taken home by a staff member for observation, and she started to slowly get better.
However, with her improved health came an overwhelming and undeniable neediness for affection and she was constantly whining to be held all day and all night which was something that a busy shelter couldn't provide.
Chicky was also indeed very lonely. And so, the staff decided to take a chance and put the two together, and miraculously, it all worked!
The shelter director, whose name is Lindsey Huffman, described to The Dodo the duo's first moment together:
They immediately started nuzzling and cuddling one another and later started playing. Match made in heaven!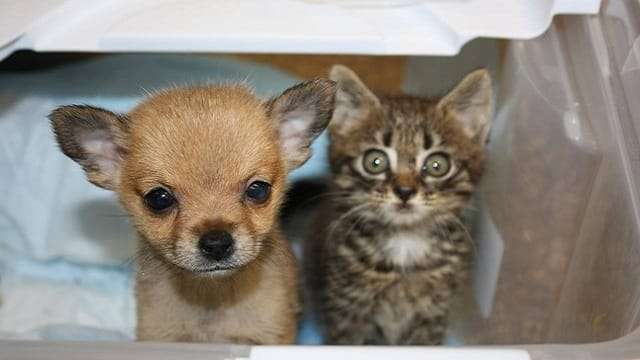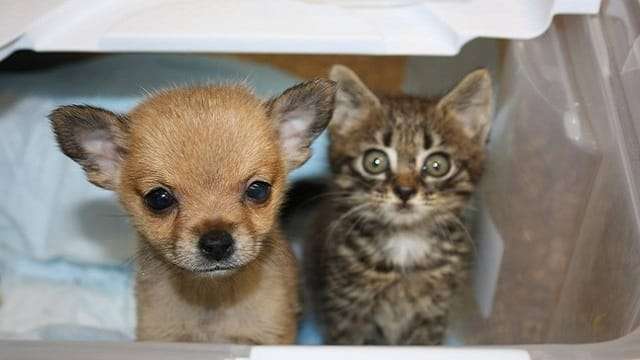 The shelter has now decided to put them up for adoption as a pair.
Thankfully, these two found each other because it would have been too difficult to get them taken in separately. A tabby cat is very common and often takes many months to find a home, while Nugget's need for attention would have been difficult for any family to meet.
It will still be some weeks before they are able to be adopted, but Huffman is confident that it won't be a problem.
They are currently being fostered by the shelter's resident veterinarian who reports that they are indeed still best friends and as cute as ever.
Huffman went on to add, "I just wish it was this easy for every shelter pet to find a forever home"!
While the duo is currently located in Virginia, out of state adopters are also welcome, but they must pay an in-person visit first.
To adopt these or any other animals from this particular shelter, see their website.
Photo credits: Shenadoah Valley Animal Services Center