FLORIDA – One day, a wee one of a black kitten simply showed up at an office located in Florida.
He must have picked just the right office! All of the employees there immediately took the little one inside and worked as a team to help him feel more comfortable.
As you can see in the photos, he was quite the scarred cat! He was was so meek and frightened at first all he did was back himself up into a corner.
After he got some real food into his hungry belly, he immediately began to calm down a bit.
It's obvious the kitten had a mother somewhere, but she was nowhere at all to be found.
"We looked for her and couldn't find her," Reddit user OccamsCudgel stated.
"We moved the lid partially over the top to help with the scared feelings."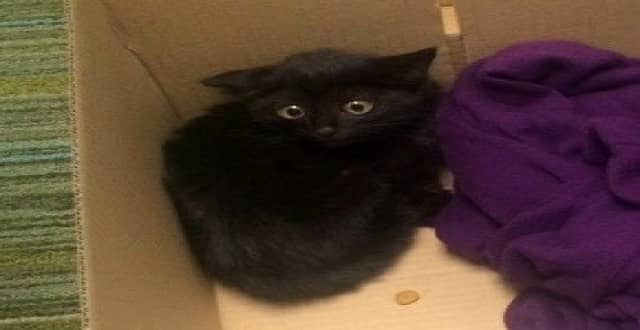 All it took was a bit of a gentle human touch for this wee one to begin to realize he was actually going to be OK and safe.
Little by little, the employees were able to see the fear leaving his eyes.
He began to truly enjoy the company of his new friends and being the center of everyone's attention.
What a hungry little baby he was!
One of the office employees whose husband just so happens to be a veterinarian decided to take the kitten home to foster him.
He was given a thorough checkup and his fosters will soon be looking to find him a loving forever.
How adorable!
You can also check Fuzzy Rescue for interesting pet care tips.