UNITED KINGDOM – A stray kitten literally stunned the entire staff at the Blue Cross after it was found to be a hermaphrodite – having both male and female organs.
Seven-month-old Jamie was originally brought into Blue Cross Burford by veterinary charity PDSA along with his brother Curtis.
However, when Blue Cross sent Jamie to a private vet for routine neutering they found the kitten had female as well as male genitalia – making for a series of much more complicated procedures.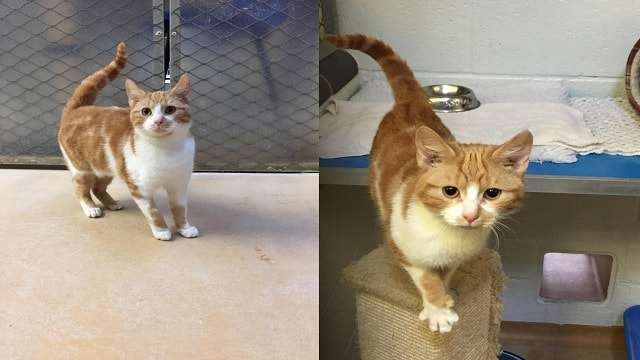 Blue Cross animal welfare supervisor Lydia Sawyer explains: "No one at the centre has ever seen a case like this.
"We thought Jamie was a boy and it was only when he went to an external vet for routine neutering that they discovered he is a hermaphrodite.
"Jamie was castrated then went down for investigatory surgery to make sure he was sterile and to make sure there were no other complications."
Jamie is now healthy and has gone off to live with his brother at their brand new home.
Commenting on the case, Blue Cross vet Seb Prior stated: "Hermaphrodite kittens like Jamie are rare but they're not unheard of. We certainly see all kinds of cases working at an animal charity.
"The amount of development of the male and female parts varies and the genitalia that develops are affected by several things so every kitten with this condition is a little different.
"It can result from abnormal chromosomes, hormone production or problems that occur during the kitten's development before birth. In some kittens, it can cause recurrent infections and difficulties with the neutering operation but we're really pleased that Jamie has done so well and is settling into his new home."