BRADFORD, UK – It has been confirmed that these two precious wee ones were "colored in" for a reason.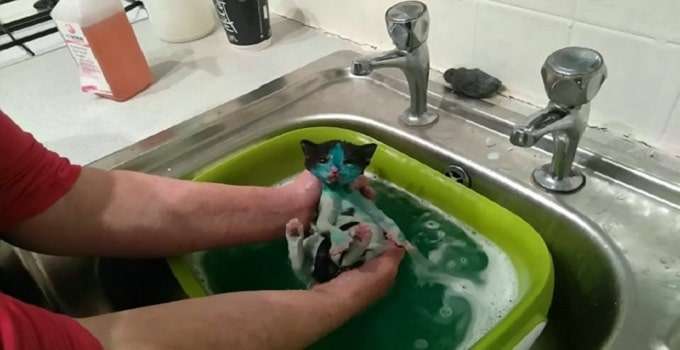 The Yorkshire animal sanctuary has revealed details of a barbaric "sport" in which kittens are "color coded" with marker pens and then thrown to packs of savage dogs.
It was the owner of Shrek and Smurf who intended these two kittens to be "dog bait."
In this particular heinous sport, kittens are colored or dyed so that players who have bet on a chosen kitten will know which one has been killed first.
Sanctuary owner Katie Lloyd stated: "This is not just a couple of idiots colouring in kittens. This is serious barbaric cruelty. "If these kittens were not rescued I am sure they would have been dead within an hour of two."
It's highly possible now that the two kittens could have permanent breathing difficulties after they were colored in with marker pens, a cat rescue centre has said.
The one-month-old cats, now named Smurf and Shrek in accordance with their brightly dyed coats, were handed into Bradford Cat Watch Rescue in West Yorkshire by some police on Monday evening.
Katie Lloyd, care coordinator at the rescue centre, stated she could not believe it when the kittens were brought in covered in blue and green ink.
She was told that the cats were blue and so brought out a nebuliser ready for their arrival, but was "totally shocked" when she discovered they had been written on with permanent marker.
"At first I believed I was getting cats with breathing difficulties because they were blue," she said.
But the ink could very well have a long-term impact on the kittens.
Ms Lloyd went on to explain: "It could have affected the lungs because they were having breathing difficulties when they arrived.
"It could affect the skin, it could cause infections, irritations, it could infect anything really – the whole respiratory system. And psychologically as well, but they don't seem overall psychologically affected."
A lot of the ink on the cat's bodies has been taken off, Ms Lloyd said, but added that she was cautious washing their faces.
"The areas where we're struggling is around the face and the reason for that is we don't want it dripping into the eyes, nose or mouth because, believe me, it's permanent," she went on to say, adding that washing off the ink was now turning her own skin blue and green.
"We don't want them to get it in the eyes because its probably permanent like Sharpie or something like that, a permanent marker. We don't want it to get into the eyes, ears, nose or mouth."
In a statement on the rescue centre's website, Ms Lloyd has written: "We often consider ourselves to be unshockable… We have dealt with most situations but this is a first."
The rescue centre, which has had a dozens of donations after the rescue, will seek to re-home the kittens when they are ready.
The sanctuary currently caring for Shrek and Smurf has rescued around 5,000 cats and kittens in its 10 year history.