MISSOURI – After many years of pressure from animal rights groups, Washington Universty has now stopped using cats to train new doctors how to insert breathing tubes.
The medical school was the very last in the country known to use live animals for the training, according to the Physicians Committee for Responsible Medicine, a nonprofit that opposes animal research.
"After careful consideration and a significant investment in its simulation center, Washington University School of Medicine now will provide neonatal intubation training using only mannequins and advanced simulators," according to a statement released Monday by the school. "Improvements in the simulators make this possible. Therefore, the university has made the decision to no longer rely on anesthetized cats in training health care professionals to perform these life-saving intubation procedures."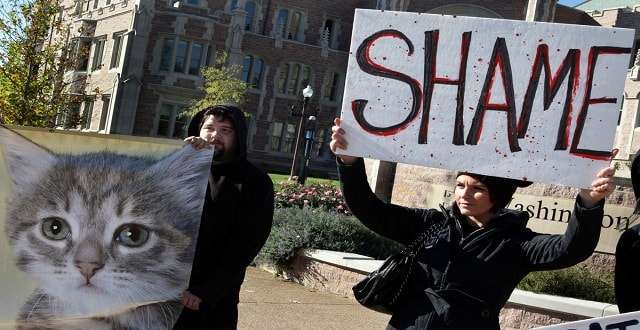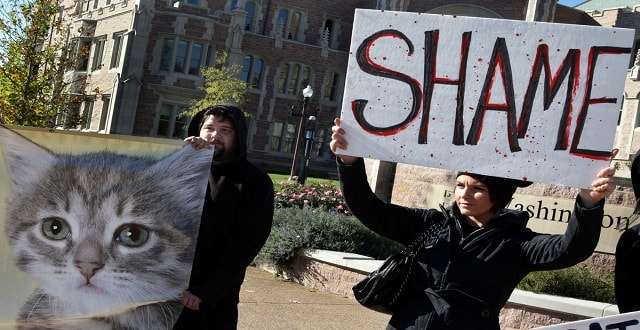 The statement did not include information on just how many cats remained in the lab but said they will be adopted by medical school employees. The physicians' group explained that it was notified Friday of the change by Dr. Gary Silverman, who became chief of pediatrics at Washington University late last year.
"It should have ended years ago, but we're grateful that it ended now," stated Dr. John Pippin, the group's director of academic affairs. "We were truly perplexed that a leading program like that would use a discredited method of training."
The use of live animals to train doctors has taken a dramatic tumble in the last 20 years with improvements in high-tech mannequins.
Just last summer, the University of Tennessee in Chattanooga and Johns Hopkins University became the last U.S. medical schools to use live animals for surgical practice, which often resulted in the death of the animal.
The animal rights group People for the Ethical Treatment of Animals filed various complaints with the U.S. Department of Agriculture over Washington University's use of cats in 2009 and 2013. Former game show host Bob Barker also joined the protest and offered to donate high-tech mannequins to the school.
Soon after that, the school removed animal training from a certification course for outside medical professionals based on guidelines from the American Heart Association. Emergency transport teams and medical students did continue using nine cats in the school's lab to practice breathing tube placement.
At that time, Dr. Bo Kennedy of St. Louis Children's Hospital stated that the cats, with delicate tissues that mimic premature and critically ill infants, were preferable to simulators.
"The reason we use the cats is because the cat's upper airway is very similar to that of a newborn infant," Kennedy stated. "It has the same fragile tissues that we need to be very careful with, and the protective airway reflexes that rapidly close. Mannequins have gotten much more sophisticated, but they're still plastic and don't really respond like normal tissue."
The cats were sedated and had breathing tubes inserted four to five times each year. The cats were not kept in cages and were later adopted out, mostly to staff members, after three years of service.
No cats had been injured at all since the lab opened in 1988, according to the school.
The USDA found no other violations of the Animal Welfare Act at its most recent inspection of the school in May and after PETA's complaint back in 2009.