MASSACHUSETTS – A woman who lives in a Brockton building that caught fire just on Saturday explained she was able to quickly scoop up her three kittens.
However, Bernadette Fuller said that she couldn't locate their mother. Thankfully, she said, a Brockton firefighter rescued her white and blonde cat named "Tinker Bell.
A Brockton firefighter, whose name is Francis Madden, was seen making the rescue, cradling the adult feline as he walked out of the two-floor apartment house. Fuller went on to say that the scared Tinker Bell was hiding in the closet.
"I was really worried about my kitty," admitted Fuller. "I got the babies out, but couldn't find her. … We were lucky."
A thankful Fuller explained that she searched around several times to try to find the mother cat before her husband pulled her out of the smoke-filled home.
The Brockton Fire Department responded at approximately 7:30 a.m. to the structure fire, which started in the basement of 170 Laureston St. Nobody at all was hurt as a result of the fire.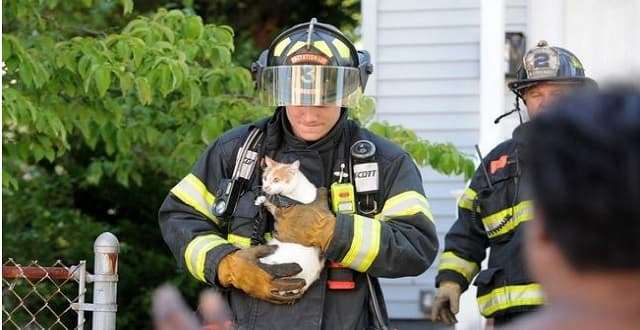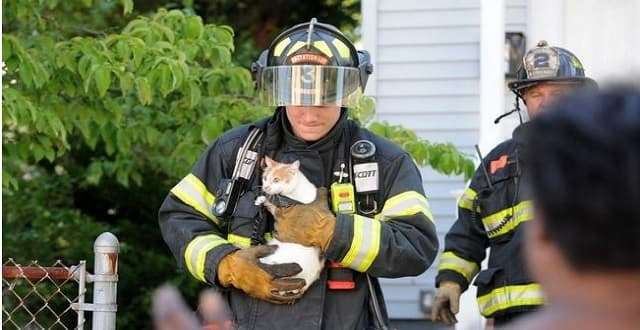 Fuller says that she got up from bed to go to the bathroom, and didn't see any smoke in the beginning, but it smelt like someone was cooking.
"Then I went out the door and saw the smoke coming out there," Fuller explained. "The hall was full of smoke."
Fuller then said that she went up to the second floor and screamed to the tenants to alert them to the basement fire.
Fuller said that she believes the fire was electrical in nature, although firefighters have not yet officially determined the cause.
Fuller went on to add that the apartment house is a housing authority property and that she called the housing authority multiple times to report exposed wires.
"All I knew is it had to do with the wires," stated Fuller, who has lived there for about two years. "The lights kept flickering."
Fuller got some help from a neighbor, whose name is Debbie Ireland, who volunteers for a local animal shelter. She brought over a cat carrier for Tinker Bell and her kittens.
"I got all kinds of stuff for her," Ireland commented.
Fuller explained that she was not sure where she and others were going to go in the aftermath of the fire.
Despite how the fire wreaked havoc on the lives of everyone who lives in the Laureston Street building, Fuller claims she's glad everyone, including Tinker Bell, made it out of the fire OK. Fuller said that firefighters went into the home a total of three times before they were able to locate the cat.
"I thought she didn't make it," Fuller said.
Photo credit: Marc Vasconcellos
Source