Even special needs kitties can make wonderful companions.
And they always have so much love to give!
This is the heart-warming story of Bonnie!
"She was hit by a car, mangled and knowingly left to die. Her owners took her to a vet a few days later where they declined necessary surgeries to correct things like her broken skull, broken ribs, eyesight, and such," Kitty Adventure Rescue League commented in a post. "She had been left on the owners porch long enough that maggots had developed in her open wounds. The vet did suture her wounds and fix her jaw. She now has a permanent wire under her tongue to keep everything in place. But her face and body is misshapen, as well as the damage to her brain and loss of eyesight and hearing. Much of this could and should have been corrected when they first found her after the accident. All of this information is backed up by vet records given to us when they surrendered her to our sanctuary."
Bonnie, despite all of her glaring disabilities, is not in any pain or discomfort at all. She's just curious and joyful just like any other cat!
"She is a very happy girl, and her favorite thing is to be picked up and held. That girl has a monster purr motor!"
Her human caretakers posted a picture of Bonnie looking like the most adorable reindeer you have ever seen on reddit. Naturally, the world fell in love.
And, she doesn't let her disabilities prevent her from getting into the holiday spirit!
And once people learned of Bonnie's heartbreaking story – they instantly felt the holiday spirit. Bonnie was literally flooded with food and toys from cat lovers all over the world!
"Many of you have chosen to help out our rescue and we are completely blown away by your generosity."
This part of Bonnie's room. And you can plainly see, she has plenty of room to explore!
"Bonnie is only 5 years old, but she is loved greatly here at KARL. She is happy, safe, warm, and most importantly thriving in our home. Bonnie deserves so much more than we can give her, she is always happy to get some attention, and yes, she does require a fair amount of extra care, but it's all worthwhile when she face bumps me."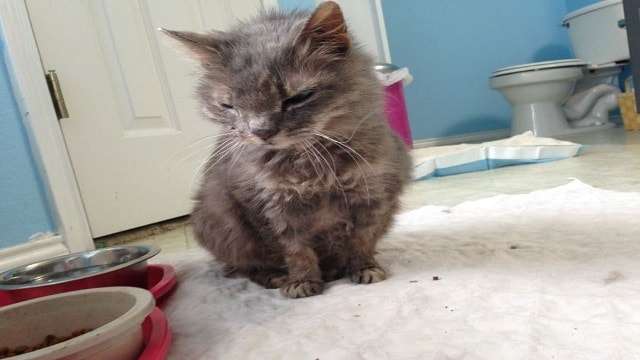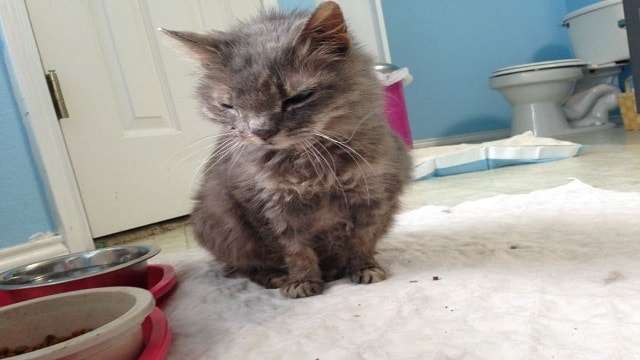 Bonnie is simply – the best!
Be sure to follow Bonnie and the other wonderful kitties for yourself at Kitty Adventure Rescue League & Sanctuary on Facebook!