SARDINIA, ITALY – A cat island on a remote Sardinian beach, where visitors may play with kitties in the surf or just watch them lounging on the sand, has been named one of the island's best tourist destinations by travel website, TripAdvisor.
In fact, the sanctuary, which is located near the tiny fishing hamlet of Su Pallosu on Sardinia's western coast, has been named the seventh best tourist destination in the entire of Sardinia.
The association which runs the sanctuary – I Gatti di Su Pallosu – has even been once awarded a prestigious certificate of excellence, thanks to the scores of five star reviews it has racked up on TripAdvisor from delighted visitors.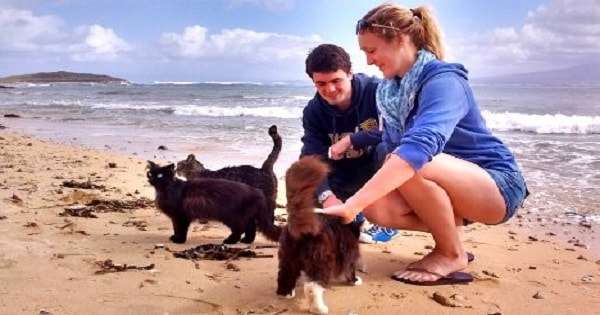 "People love cats and they love beaches too, so it's a recipe for success," Andrea Atzori, who founded the non-profit sanctuary with his wife back in 2011, told The Local.
Since then, the beach has become an international tourist attraction which has drawn literally thousands of visitors to Su Pallosu over the last three years.
"At least 20 percent of the 11,000 visitors we've had in the last three years have come from abroad. A British couple came to see us yesterday."
"People are curious because they assume cats hate water, but the Su Pallosu cats grew up on the shore and have no fear of the sea," Atzori went on to add.
"They are also super tame and friendly so know how to entertain visitors."
The sanctuary may be a recent arrival to the beach but the colonies of cats have roamed the sands at Su Pallosu for over a century, ever since local tuna fishermen by in the day imported a bunch of cats to tackle the local rodent problem.
Today there are some 60 felines that are living and thriving at the sanctuary, at least half of which are the descendants of the fishermen's original cats.
To visit the sanctuary, it is necessary to book well in advance via the association's website.
Groups no larger than ten are admitted to the beach for a maximum of one half hour so as to avoid stressing the animals out.
"The visit is completely free," Atzori stated. "But people can make an offer to help with the cost of feeding and caring for the animals."