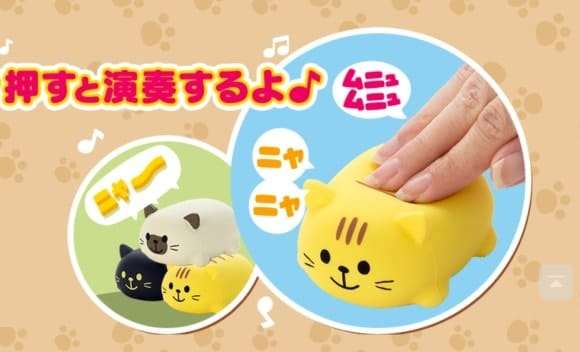 How about making some music by squeezing some cats?
Music lovers and animal lovers aren't mutually exclusive groups, and so Japanese toymaker Takara Tomy has just the thing for the overlap of those two specific demographics. The company has unveiled its new line of Munyu Munyu Do Re Mi Fa Cat musical toys, with "munyu munyu" in Japanese meaning "squishy."
The lineup consists of eight uniquely colored kitties, each one representing a musical scale note, starting and ending with do.
Press down on the cat's back, and it'll sound its note in an adorable voice singing "Nya!" (which is Japanese for "meow"), as heard in the video here.
However these are no one-trick ponies, or strictly one-not kitties. Each cat comes preloaded with its own different song, such as "When the Saints Go Marching In," "Amazing Grace," or "Twinkle Twinkle Little Star." By flipping the switch to song mode, the cat will change notes and sing its tune in rhythm with how you're squeezing it.
You can even stack different cats on top of each other in a pudgy, pressable pyramid which produces chords.
The lineup doesn't officially go on sale until March, but if you're looking to get a preview of the joys of feline music production, you can always go to the Munyu Munyu Do Re Mi Fa Cat website here. There you'll see the cats lined up at the top of the page, and letting your cursor hover over them will allow you to hear their voices.
The Munyu Munyu Do Re Mi Fa Cats may be ordered here directly from Takara Tomy for 1,296 yen (US$11) each.