We're sure you hear stories all the time of amazing animal rescues that leave us in awe. Everything from rescuing a puppy from a ditch, helping a finch frozen on a metal fence to farm animals rescued from freezing conditions, animal lovers will go to great lengths to help any animal in need.
That's precisely what Michael Libasci, who is a marine deputy in Stuart, Florida did. The Martin Country Sheriff's Marine Unit got a call from a good Samaritan saying that they could hear tiny cries coming from the water underneath the Roosevelt bridge.
And so Libasci, went out to try to figure out what could possibly be making tiny cries in the ocean.
Libasci arrived at the location and was surprised but what he found – a tiny kitten struggling for his life. The kitten had managed to climb atop an oyster-laden bridge piling to try to save himself from the waves.
The officer luckily managed to get the tiny kitten over to his own boat and away from the dangerous waves. Just look at how tiny the kitten is!
Once safely on dry land, the kitty was taken over to Humane Society of the Treasure Coast, where he was named Roosevelt after the bridge he was found under. Before long, he was placed in foster care.
Michael, however, wasn't done with his good deeds quite yet because not long after, he adopted Roosevelt!
Roosevelt will be in terrific hands with Michael and we are sure the duo will have many lasting memories throughout the coming years!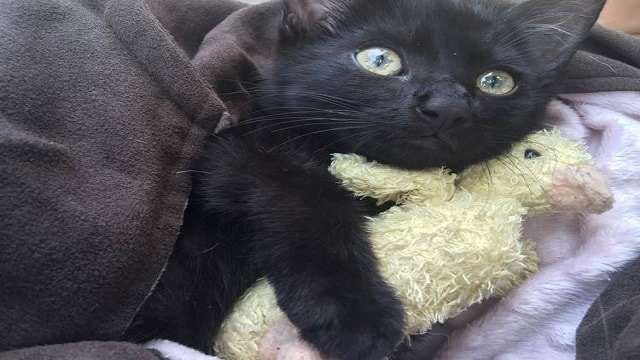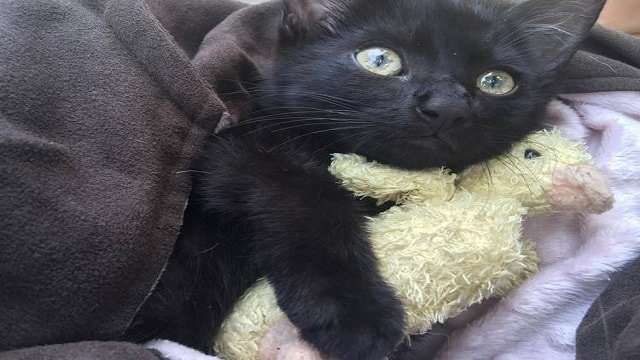 While no one knows just how Roosevelt got into the waters in the first place, we are so thankful this kind officer saved this little guy's life.
Image Source: Martin County Sheriff's Office/Facebook │via: www.onegreenplanet.org