GUERNSEY, UNITED KINGDOM – One of the grounds keepers at the church said that Barney's death had 'left a gap' in the local community, as people pay tribute to the cat. A cat who wandered a cemetery to comfort mourners for 20 long years has been laid to rest after he died of old age. Barney the ginger tabby spent his days walking the grounds of a church burial site, consoling those who were visiting their loved one's graves.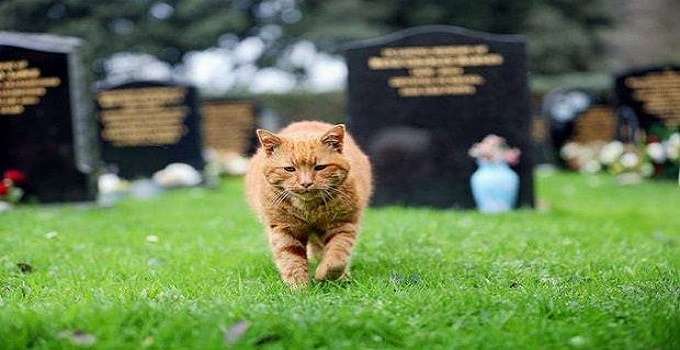 But back in February, the 20-year-old kitty died of old age. This had led to an outpouring of grief from the local community as people paid tribute to this much-loved cat. Memories of a 'purrr-fect friend' will live on now that a bench and plaque were installed in honour of Barney the cat.
The ginger tabby, who was around 20 when he passed away in February, was a popular resident at the St Sampson's cemetery, Rue a Chiens. The cat had charmed visitors not only into leaving him food, but also presents at Christmas.
A wooden bench has now been put where Barney's house once was for the better part of his life, halfway down the cemetery on the left. That has been moved to by the entrance to the cemetery. The bench includes this message 'In memory of Barney, everyone's purrr-fect friend.' A plaque has also been mounted on the wall near to the bench, which states: 'Barney 1996-2016, the cemetery cat, a special friend to many, died 26th February 2016'.
Sexton Alan Curzon said the plaque and bench were paid for completely by the generosity of the people who so loved Barney and other people who had wanted to contribute, having heard his story.
'We know people are very kind,' he stated.
There is also a vase which is engraved with the following note: 'In loving memory of Barney, always in our hearts.'