This pretty 19-year-old calico with 'scary' eyes initially repelled many adopters from taking her home. But once her story was shared all over Facebook, hundreds of offers can pouring in to take her home!
Her name is Pops!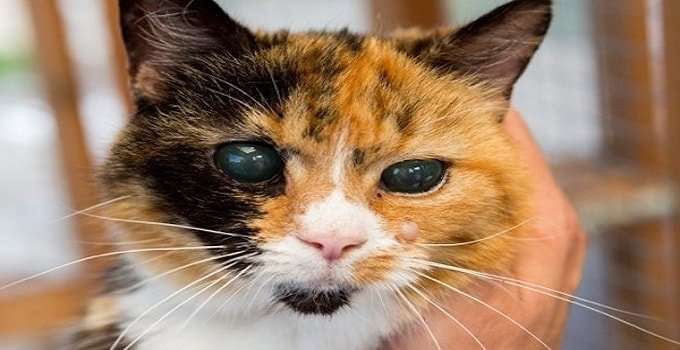 When Pops first arrived at Cats Protection, a rescue organization near Bath, England, staff knew that this poor girl had quite a rough journey.
19 years old and almost completely blind, the calico was found stumbling alongside the road, confused and kind of disoriented. Pops was by far the oldest cat they'd ever rescued. She quickly became a staff favorite at the Cats Protection's Midsomer Norton and Radstock Branch.
After sharing her story on Facebook, hundred of offers to adopt her came pouring in!
"We had nearly 200 offers to our website to home Pops, not to mention the offers via Facebook," volunteer Belinda Dark stated in a press release last August. "We have had offers from the length and breadth of the country, as well as France, Germany, USA, and Egypt."
Pops was battling against all odds, due to her old age, and also that it was kitten season, which would make it even harder for older cats to find a home.
"During the spring and summer months we see a dramatic rise in kittens being adopted instead of older cats," Dark stated via press release. "It can be horribly sad to see them left behind. I think often older cats can get a little overlooked, much like second-hand items, but ultimately there is just as much joy in rehoming an older cat as there is a kitten."
Luckily, the right family found Pops, and she was finally rehomed and is living happily ever after!
"She has definitely settled in and is right at home," her new family stated. "She might be blind, but she knows how to move around the house and find her favorite spots! She has us wrapped round her little finger and will sit and cry if she doesn't think she is getting enough attention."
Though Pops had a wonderful fairy-tale-like ending, many older cats need homes too. Many just like Pops are simply waiting for someone to love them right this very moment.
Next time you want to adopt a new fur friend, consider adopting a senior cat. You won't be sorry that you did!