When adopting a companion animal, there are some people who may not realize how ill-prepared they are to care for another living being until it is too late. Unfortunately, this does lead to hundreds of dogs and cats being abandoned each year. In fact, it is estimated that there are now approximately 70 million homeless dogs and cats in the U.S. alone! Sometimes they are dropped off at shelters but sometimes their owners are so ashamed that they simply dump the poor creature on the street.
That's what appears to have been the case for a cat who was spotted on the side of a street in Brooklyn, New York this week. Found sitting next to a box of cat supplies and a litter box, the feline had clearly been abandoned.
The male cat was heard crying frantically by passersby and shortly after, the Flatbush Area Team for Cats, or "Fat Cats," posted photos of the kitty on their Facebook page. It seems that a street sweeper actually scared the adorable boy away, and so, Fat Cats urged people to keep their eyes out for the cat.
Concerned Brookylnites literally took to the streets soon after the Facebook photos posted, and looked for the cat high and low. They even found another stray cat, while they were on the hunt. This second cat, Martin, is currently in their care and is also in need of a loving forever home.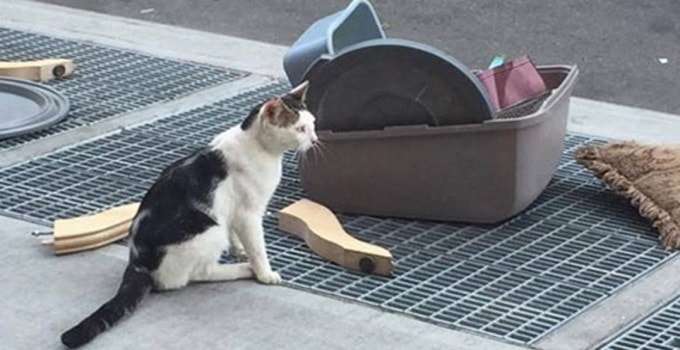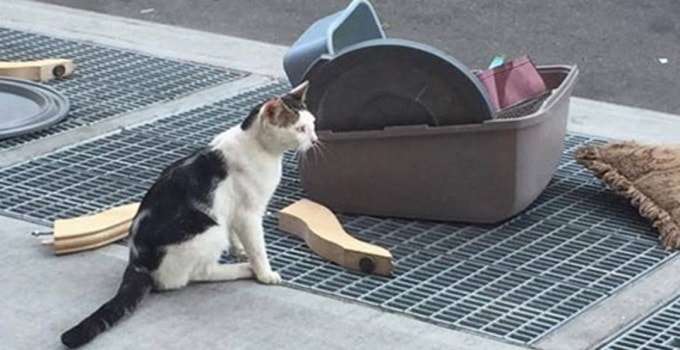 Seeing as though so many people concerned over the well-being of an animal they do not even know personally really should restore our faith in humanity – even just a bit! Instead of focusing on the flagrant neglect and cruelty this cat's owner demonstrated by dumping the helpless animal on the street without food or water, we choose to celebrate those which are trying to help this cat get the love he deserves! We hope from the bottom of our hearts that this little guy is found soon and learns that there are some kind humans out there!
UPDATE: After many days of searching, the kitty who was abandoned with his belongings in the street – now named Nostrand after the street he was abandoned on – finally turned up in the backyard of a cat rescuer named Karen.
FAT Cats updated with the following:
"We immediately brought him to get vetted, and screened for a microchip. No microchip, but we are happy to say he is a healthy 1 year old male, FeLV/FIV negative, who was treated for fleas."
"If you would like to donate for his vetting and eventual neuter you can do so here. We are an all volunteer group, no donation is too small and we are so grateful for anything"!
Follow FAT Cats on Facebook!