Human beings have two legs and we truly can do some amazing things. Many animals have four and they, too, can do amazing things. However, how can a kitten with two legs manage? You might think that only having two front legs would be a huge disadvantage for a cat – right? Well, that would be wrong!
Meet Rocket! Rocket was born with only his front legs but he doesn't even seem to realize that he is different.
Rocket might only be a few weeks old – but he is already well-adjusted to life on two legs. In Germany, Mareen first discovered Rocket when she was feeding stray cats in a nearby yard.
In the beginning, Rocket was shy but also very fast!. And so, Mareen returned there every day with food and eventually, she was able to pick Rocket up and bring him in.
Rocket has absolutely no trouble getting around, he balances on his front legs and uses his tail as leverage!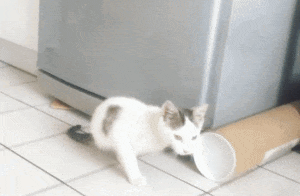 Mareen went on to explain that he could run faster than some of the other kittens his age! It took Rocket a few days to get acclimated to his new home.
Mareen added that he meowed the whole first night!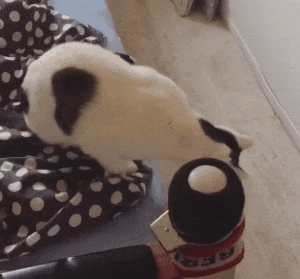 Slowly but surely, Rocket settled down and relaxed. Then, all of a sudden, his personality began to shine!
Mareen is extremely happy to report that Rocket can now jump, climb, and run.
Each and every night, he shares the bed with his new mom.
Rocket will be 1-year-old this coming May and as you can clearly see, he is one handsome fellow! You can follow Rocket on Instagram.
h/t: LoveMeow │ Photo/GIF credits: Flint & Gürkchen & Rocket / Instagram