GREENEVILLE, TENNESSEE – When it comes to rescues, firefighters aren't only there for us humans.
After being called to a house fire which happened at Alderman Drive early Wednesday, crews from the Greeneville Fire Department were fast to pull Truman the cat from the smoke-filled home, extinguish the flames and work to revive him.
With Truman unconscious with labored, firefighters relied on some of the newest equipment added to their trucks: oxygen masks designed specifically for cats and dogs.
Back in 2015, Rocky Top Veterinary Clinic and Knoxville-based Invisible Fence company provided pet oxygen masks to all four of the Greeneville fire stations as part of an initiative called "Project Breathe."
The masks differ from those which are commonly used on humans.
A special valve forces oxygen into a pet's air passages. Human masks, with a continuous oxygen flow, aren't very helpful to animals unless they're already breathing.
Firefighters completed special training on using the masks and performing pet-specific cardio-pulmonary resuscitation back in 2015.
However, Wednesday marked the first time they've need to rely on the gear in an actual emergency.
When firefighters emerged from the home with Truman cradled in their arms, Greeneville police called on officials from the Greeneville-Greene County Humane Society to help.
After receiving oxygen for approximately 30 minutes, Truman began to regain consciousness and Human Society Manager Amy Bowman as then able to transport him to Duckworth Animal Hospital, where he continues his recovery.
"Dr. Stacia Cook updated us on the cat's condition this afternoon," Bowman said Wednesday, describing Truman as "resting, but traumatized."
"It will be at least a week before the full extent of the damage from smoke inhalation will be known," she said.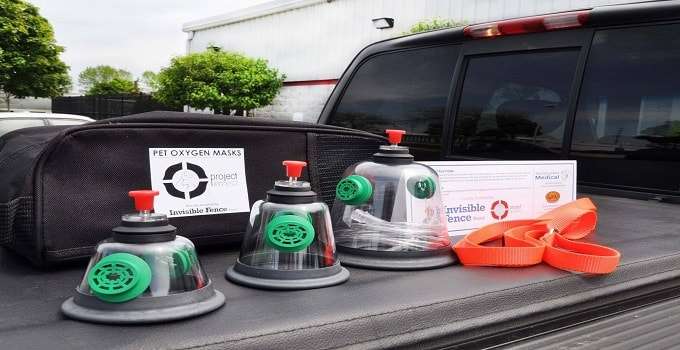 Greeneville Fire Chief Alan Shipley checked on Truman late Wednesday evening, and noted that he was breathing on his own and responding to humans.
"Hopefully this will have a good outcome," Shipley said.
The chief added that firefighters are often questioned about pet rescues.
"When we go to schools, we tell kids and they know not to go back inside a burning building. But, they always ask, 'What about my pet?'" he said. "We do go back and get them, too."
Bowman said she was struck by the compassion all of the firefighters demonstrated as Truman was suffering from smoke inhalation.
"I was so impressed with the firefighters and police officers when I arrived on the scene," she said. "The fire appeared to have been extinguished and the firefighters and police officers were in the front yard, surrounding the cat and tending to his injuries. All showed great sympathy and concern for this little cat."
In addition to the Greeneville Fire Department, "Project Breathe" has also provided the Tusculum Volunteer Fire Department with some pet-specific oxygen masks.
Local fire departments not already equipped with the masks can learn more about the "Project Breathe" donation program and even fill out a request form at www.invisiblefence.com/why-invisible-fence/project-breathe.