Tired of your cats scratching your furniture? We've all been there. There's just no way to teach a cat not to do it. Many of our fave felines transform pricey couches and furniture to scratching posts, making them unusable in just a short time.
Of course, there are cat repellents that can help, but let's face the facts – not all of them work great. Fortunately for you, we've made a list of the best cat repellents in 2021. The products you'll see on the list below are all tried and tested and very efficient too.
If you want to prevent your cat from scratching your furniture, this is the ultimate 2021 cat repellent list you've been looking for.
What to Look for in a Cat Repellent
When looking for a repellent for your cat, you will need to keep a few things in mind. If you're looking to prevent your cat from destroying your furniture, you will need an indoor repellent. Some work both indoors and outdoors, but other products are for specific areas.
You should also check the coverage area. Not all repellents cover a lot of ground – some work in smaller areas only. These might be best if you're using them indoors, but if you need your cat to stay away from your garden, you'll need to look elsewhere.
Finally, if you need your cat to stop scratching your furniture, you will need a repellent that's specifically tailored to that situation. Sticky strips such as the ones we have on the list below are great for furniture, but not all sprays will be great in this situation. Keep this in mind to find a product that will help with your situation.
Best Cat Repellents 2021
Top Spray Cat Repellent – SSSCAT
The SSSCAT spray pet deterrent isn't exclusively for cats. It prevents all pets from destroying your furniture, and the best part of it all is that it's motion-activated. Put it near your favorite sofa, and it will spray a stream of deterrent as soon as your pet comes three feet to it. A bottle has between 80 and 100 sprays in it, and the formula is safe for your pets and the environment too. This might be the smartest way to set boundaries for your kitten or cat.
For its efforts, the SSSCAT pet deterrent has earned rave reviews. The motion sensor is pretty reliable, and it's quite cheap as well being priced at $35. According to some customers, it also works well outside too, keeping racoons from your trashcans. It's an all-round pet and cat repellent that will protect your precious furniture.
Top Garden Cat Repellent – Repellex Tablets
Cats are very curious and can destroy things inside and outside your home. If you want to protect your garden from your cat or your cat from toxic plants, it would be wise to use the Repellex Systemic Animal Tablets. These can be bought on Amazon for $45 per bottle that contains 150 tablets. This one can treat up to 120 plants, which is more than you need for average-sized gardens.
The tablets will put an end to your cat's garden-destroying habits. This cat repellent works well to protect your furry friend from toxic plants too. It's cheap, very easy to use, and one of the best outdoor cat repellents you can find on the market in 2021.
Top Outdoor Product – Nature's Mace
Nature's mace cat repellent has been voted as the best outdoor product by many users. If you're facing trouble with strays or you want your cat to stay away from an area outside, this cat repellent can help. You just spray it outdoors to keep all cats away. They hate the smell or taste, but don't worry – it's not toxic to them.
You can get it for as little as $17 at Walmart and will keep strays away from areas for weeks. It's a very easy solution to what may be a big stray problem.
Best Furniture Cat Repellent – Sticky Paws Strips
Hey, here's a great product to keep your furniture safe. The Sticky Paws Strips cost only $9 on Amazon and are a great couch or sofa protector from your pet's claws. While it's not a cat repellent per se, the adhesives are sticky and will discourage your pets from pawing and clawing. They are very easy to apply too and look great, so they won't ruin the overall look of your sofa or couch.
This might be the most cost-effective alternative to a chemical cat repellent, so you ought to try it.
Best High-Tech Cat Repellent – Wikomo Ultrasonic Solar Powered Deterrent
If you want to go high-tech, the Wikomo Ultrasonic Solar Powered deterrent works best. It's a great piece of equipment that will keep cats and other animals away from your garden or any area inside your home. You won't hear the ultrasonic sound, but your cat will. In addition to it, the blinking lights will keep any area in your home safe.
The gadget works via a motion sensor, so as soon as your cat comes for another round of furniture clawing, it will definitely stay away. Since it doesn't use chemicals, it's an eco-friendly cat repellent alternative that really works. The downside is that it's pricier, but hey, at least it's not toxic to your feline.
Top Indoor High-Tech Deterrent – PetSafe Indoor Radio Fence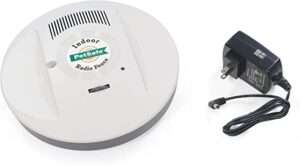 Here's another great ultrasonic piece of cat repellent. This one's better than Wikomo if you need to repel your cat from indoor areas. As soon as your cat comes within 10 feet, it sends a tone that will deter it from that particular area.
The device protects a diameter of up to 20 feet, with additional transmitters sold separately able to increase the range.
Best Cat Repellent Overall – Pet MasterMind

This is the crème de la crème of pet repellents. The Pet MasterMind Spray costs only $16 and is the best cat repellent money can buy. It's non-toxic, smells great (jasmine and passionflower) and quite effective at preventing your cat from scratching furniture. According to Amazon reviews, it's effective against cats marking, so it has a few different uses.
Summary
Article Name
Description
What to Look for in a Cat Repellent
Author
Publisher Name
Publisher Logo