SPARTANBURG, SOUTH CAROLINA — Cody Garrett may look like a real tough guy with his mustache and wearing his police uniform, but he has a soft spot for animals.
The Spartanburg, South Carolina, police officer made a brand new friend after a coworker found a kitten in the rain last week.
"I offered to take her because I have another rescue at home who is currently nursing her four kittens," Garrett said ABC News.
He said his cat Toothless was found in his backyard just last year as a kitten.
"Toothless was actually smaller than Squirt when we found her in our yard last year," he went on to say. "My son and I were playing in the yard and I almost stepped on Toothless. She couldn't even walk she was so tiny. We nursed Toothless back to health and she had four kittens three weeks ago."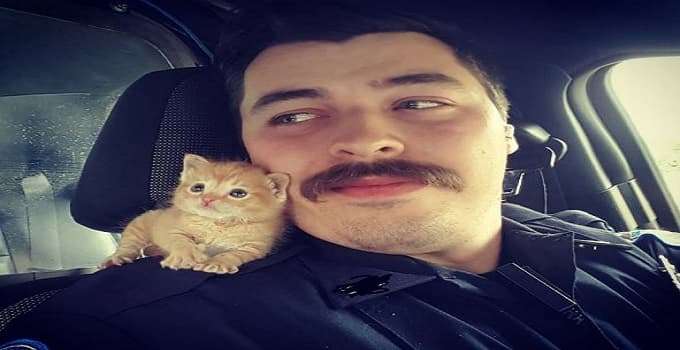 Toothless took Squirt in as her own and was able to nurse her with her own kittens.
"That's one of the only reasons I brought her home instead of taking her to the Humane Society," he explained. "She needed a mom so it worked out."
"She wanders around the house and she already looks 100 times better than when we found her," Garrett went on to say.
Garrett's home is now full, with a family of six cats and two dogs, but Garrett joked that his girlfriend is absolutely fine with it.
This kitten isn't the only animal friend Garrett rescued.
According to photos Garrett posted to Imgur, he has also found and helped abused puppies while on patrol.
BuzzFeed News reported that one day, Garrett found a blind dachshund the night he brought Squirt home.
He himself took the dachshund to the Spartanburg Humane Society.
As for Squirt, Garrett said she is getting stronger and stronger each and every day.